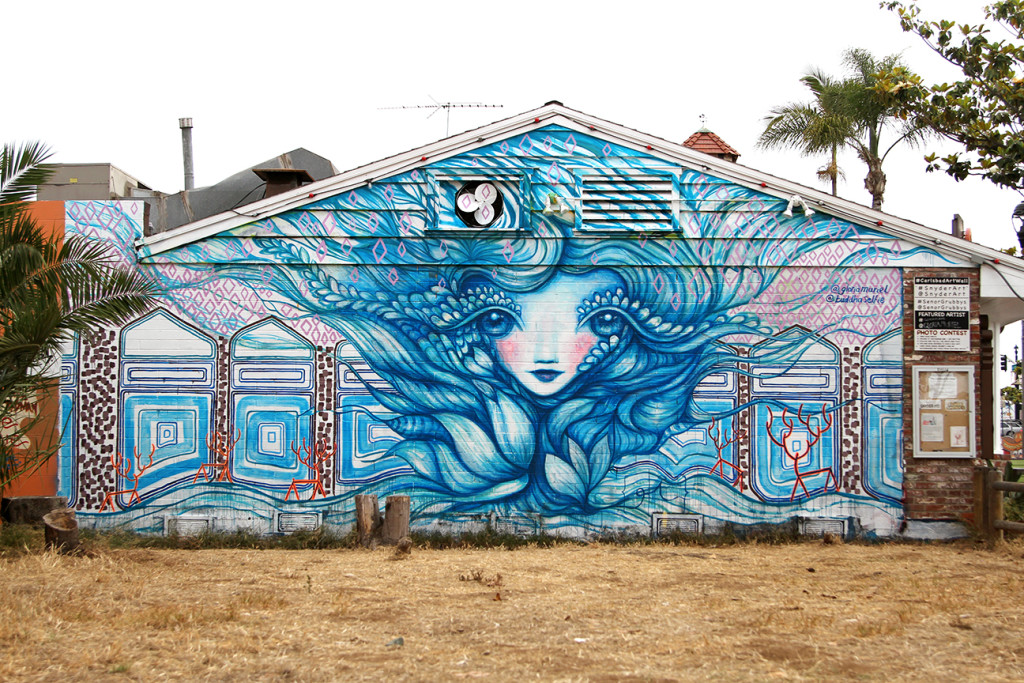 click all photos to enlarge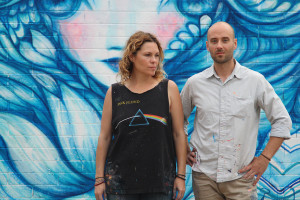 The gloomy June sky may have dampened weekend beach plans, but on Saturday, June 4, the moist air nurtured a blooming mural by San Diego based artist Gloria Muriel and collaborator Alex Banach titled The Blooming Mermaid at Señor Grubby's on the Carlsbad Art Wall (CAW) located at Señor Grubby's in the Carlsbad village.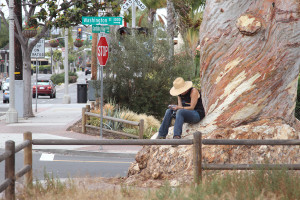 The artist duo arrived Friday evening to meet Carlsbad Art Wall Creative Director Bryan Snyder, as well as explore the Carlsbad village and prepare the 28ft. x 17ft. canvas-to-be.
Saturday morning began under gray skies and wrapped in a humid marine layer blanket. As the sun rose behind the gray curtain, Gloria mixed a cool palette of blues. Each value was assigned to a layer that would eventually complete her monochromatic center character. Mural collaborator Alex Banach prepped a warmer palette of brown, pink and orange.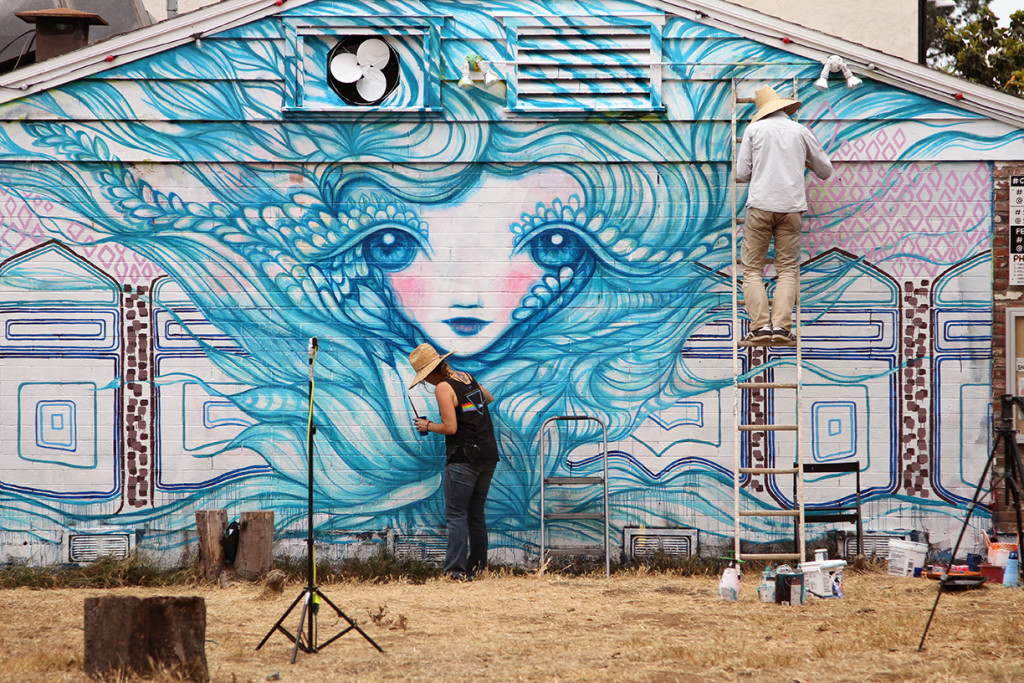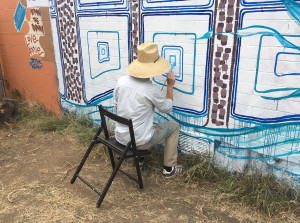 The duo quickly moved around the large urban canvas. Gloria organically floated across the wall like a leaf tumbling in the swirling wind while Alex navigated the background through precision, structure and line work.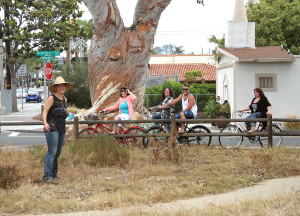 Alex kept to himself under a straw hat and with eyes on the wall while his stiff hand manufactured perfect parallel lines and abstract patterns. Gloria, though just as focused, exhibited a playful personality with the occasional joke and conversation.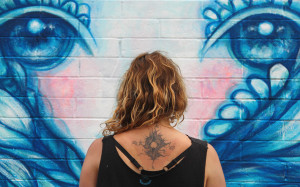 The mural's centerpiece, a blooming character that passersby immediately identified as a mermaid, came to life with water diluted layers of blue and the strategically placed white highlights. Large eyes drifted wide apart. Gravity pulled thick paint drips toward the wall's base, which contrasted with the organic swirls of Gloria's brushstrokes.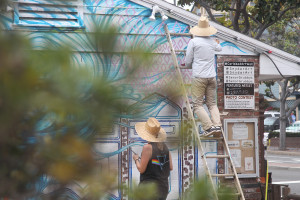 The subtle relationship building between the artist's opposite styles hinted at early possibilities of visual harmony. Alex continued his line work precision developing a forest of trees. A pink canopy of diamond shaped leaves weaved through Gloria's blooming character. A family of brightly painted deer pranced around the center character suggesting a peaceful relationship between Gloria's character and nature.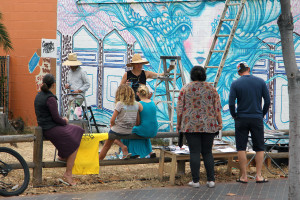 The duo often removed themselves from the wall for a view from afar. At times they could be seen sitting on the hump of a nearby Eucalyptus gazing at their growing composition.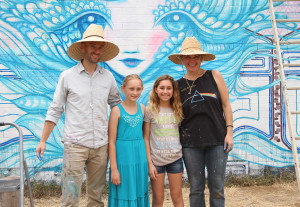 Fans jumped at the opportunity to engage with the artists during these unpredictable breaks with photo requests, questions and musing. As a prolific artist in the urban environment, as well as in the gallery setting, Gloria has gained a large following, many whom traveled from the north, the south and as far east as Anza to meet the artist. Fans of all ages marveled at Gloria's artwork including a young artist from Mission Valley who connects with Gloria through a like-minded love for nature—a theme found in many of Gloria's murals.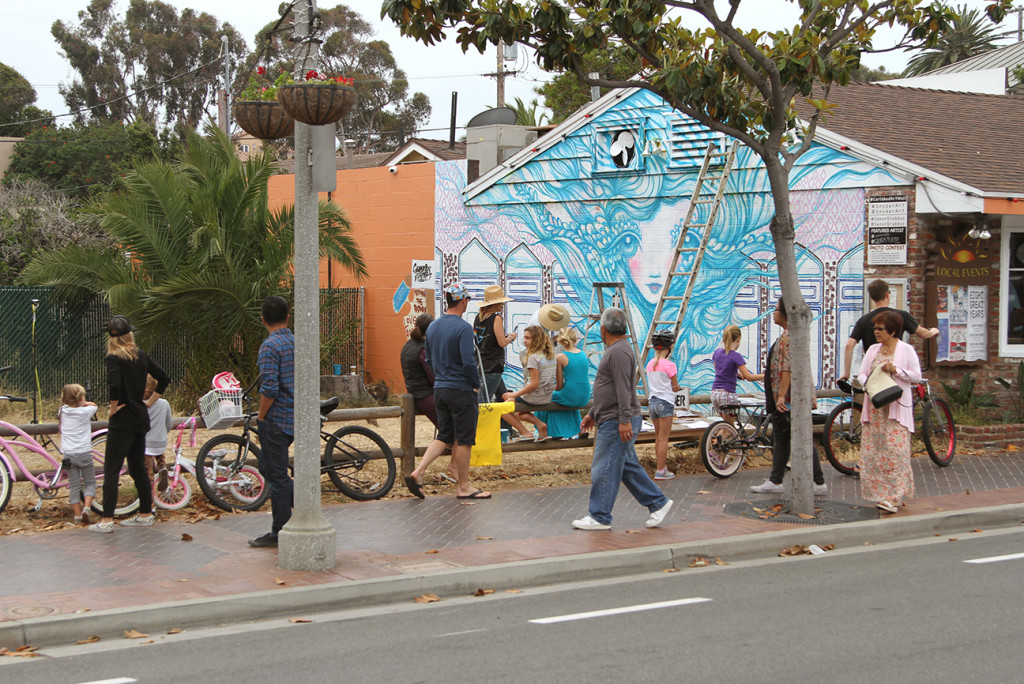 In addition to Gloria's fan base, a strong presence of seasoned Carlsbad Art Wall locals lined the wood perimeter fence eager to learn about the new artist. Some live in the village and greatly enjoy the surprise of a unfamiliar artist while others plan their vacations around the Carlsbad Art Wall's schedule, ultimately enjoying the CAW, and the Carlsbad village as a whole.
After chats with onlookers, the duo removed themselves from the crowd and conferred over the progress of their mural collaboration in private.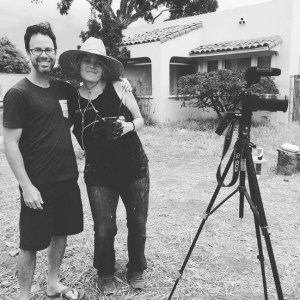 While the duo discussed, fans used this time to browse through a large collection of free stickers, sign up for newsletter updates, chat with fellow CAW supporters and dine on tacos and burritos inside Señor Grubby's. Snyder was also present onsite during the entire weekend to answer many questions.
Sunday consisted of a slew of details and touch ups. Snyder conducted a series of video interviews. Both Gloria and Alex shared their experience and onlookers expressed their support for the CAW project. As the last interview concluded, Gloria and Alex packed up their brushes, closed the lids of their paint cans and thanked Carlsbad for their acceptance.
The duo from San Diego leaves us with a bloomed masterpiece collaboration created between two opposite styles and painting methods, but unified through love, passion and balance—a lesson far beyond art.
—
Click HERE for photos of past CAW murals
—
Started in March 2015, Carlsbad Village based artist Bryan Snyder will be bringing a street artists/muralist every 2 months to paint a mural on the east facing wall of Señor Grubby's in the Carlsbad Village.
The goal of the Carlsbad Art Wall is to serve as a conduit between aspiring artists and professional artists, to provide a platform to engage and educate the Carlsbad community in the creative act of large scale public painting and to introduce a variety of new art and creative processes to the Carlsbad community.

Directions to the Carlsbad Art Wall located at Señor Grubby's