The Magic Carpet Ride, or better know as the Cardiff Kook, looms 16ft above the crowded public walkway along highway 101 in the beach side community of Cardiff by the Sea. Originally the sculpture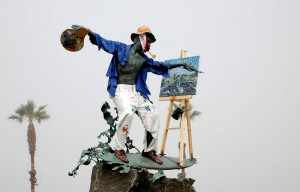 was to showcase the community's love for surfing, but that love grew into harsh criticism immediately after the unveiling.
The bronze statue has been the subject of a wave of pranks disclosing public distaste for the awkward and unnatural stance of the surfer. The most notable pranks have included dressing up the statue as cupid, a SDSU basketball player, a shark attack victim and, most recently, Vincent Van Gogh in celebration of Vincent's March 30th birthday.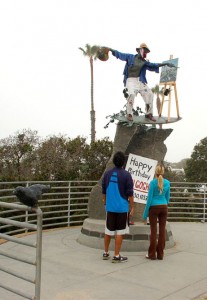 Matthew Antichevich, the artist of "the Kook" realizes that the public response is far from desirable. At this point he might prefer to take it down, but with a price tag of $120,000, the immediate removal is most likely not an option, as witnessed with the long Carlsbad Bars fiasco.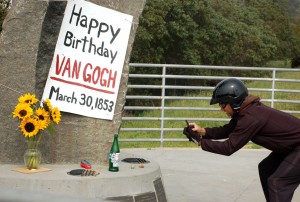 The most impacting and successful pieces of art are the ones that provoke reaction and emotion in the viewers. These pieces promote public dialogue and encourage the creative process. They connect minds and open a collective forum for discussion. The "Cardiff Kook" sculpture has done all these. Reactions from Cardiff locals and visitors have prompted smiles, invited conversation, stimulated local business and helped develop friendships.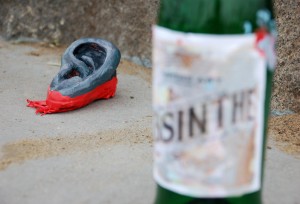 As seen in the numerous pranks, the sculpture has successfully promoted the creative process by offering a canvas for local artists. It has inspired personal expression and showcased the positive impact of public installation. The small community of Cardiff by the Sea is a perfect example of art connecting minds and nourishing culture. Where art meets the Ocean… the Cardiff Kook muses.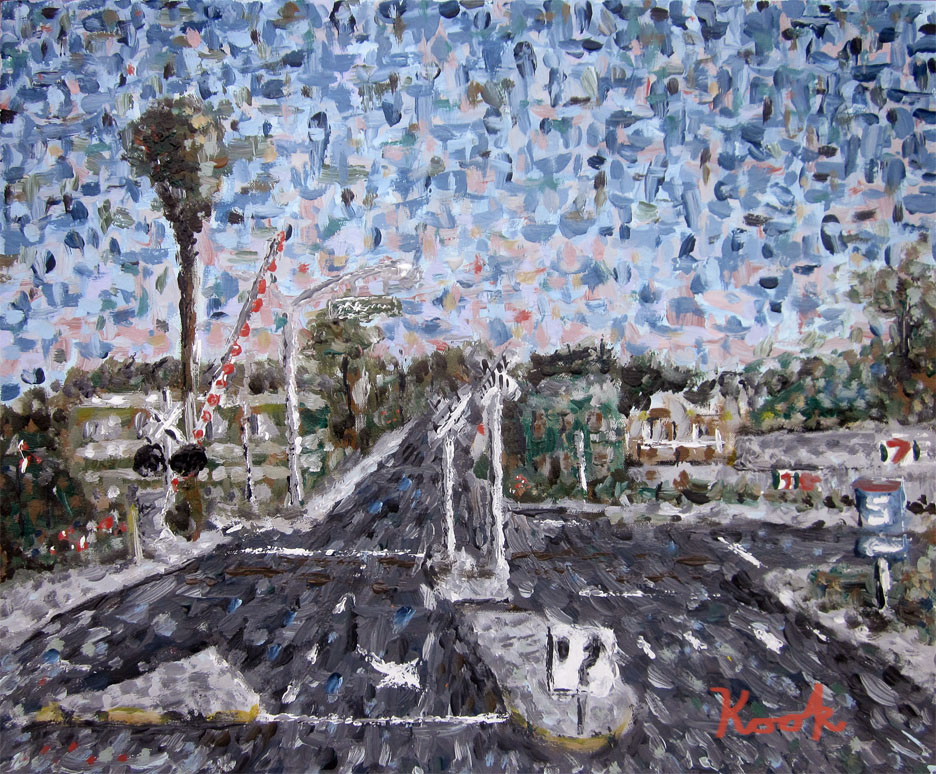 I would like to thank Antichevich for not only offering his skill to public space, but also for providing a canvas for a healthy and ongoing community art collaboration. A hearty handshake to the beautiful Cardiff community and locals for all the memories and friendships of the past days. You have a gem and I look forward to future visits. -Bryan Snyder
Happy Birthday Vincent Van Gogh– March 30th. 1853
Click HERE for additional photos!