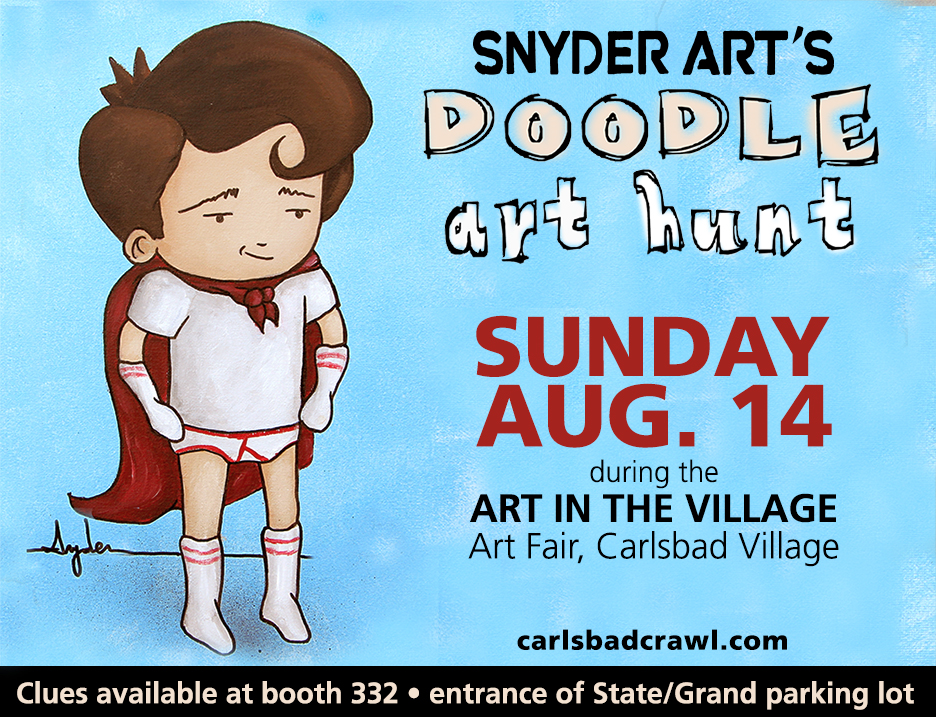 Doodle Art Hunt coming to the Carlsbad Village
WHERE: booth 332 at the Carlsbad 'Art in the Village' street fair
WHEN: Sunday, Aug. 14 (all day)
Village based artist Bryan Snyder will be hosting an art hunt featuring his signature character named Doodle during the biannual 'Art in the Village' street fair on Sunday, August 14, 2016—all day.
Eight original Doodle paintings on canvas will be hidden in the local Carlsbad Village streets. Hunt participants will be guided to these hidden paintings through clues available at the 'Snyder Art' booth #332 located on State Street at the entrance of the State/Grand parking lot. Original paintings and clues will only be available during the Aug. 14 art themed fair.
"Each hidden Doodle will not be visible to the naked eye," Snyder says. The clues will lead you to a general area. At that point it is up to you to look in, under and around to find your newest piece of original art."
Although the hidden pieces of art are limited to only eight, each participant receives a collectable souvenir. Each clue is a Doodle reproduction on wood piece of art with a glossy finish and convenient hook for easy hanging. Doodle clues are $10 each, or two for $15.
In addition to the hidden original Doodle paintings, Snyder will also hide a painted sculpture in his signature "drip art" style. Those who find this sculpture, take a photo, and post it to Instagram tagging @SnyderArt and #SnyderBonusClue will receive a direct message containing a single additional clue.
The Snyder Art booth will also showcase a variety of Snyder's artwork including a collection of his drip paintings on canvas, Doodle artwork and other select pieces.