On May 13, Carlsbad artist Sean Dominguez finished a sea life themed mural on the Carlsbad Art Wall (CAW) located on the east facing wall of Señor Grubby's in the Carlsbad Village.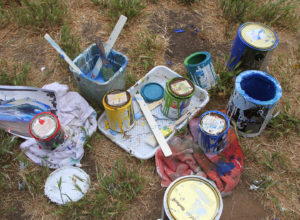 On a weekend with a high chance of rain and a 100,000 shoppers in route for the Village Faire, Carlsbad icon and artist Sean Dominguez readied his buckets of paint.
Quick brush stokes quickly outlined the early glimpses of a perfect barrel. Unlike each of the 11 prior CAW artists, Dominguez supplies excluded spray cans. His palette included only of acrylic latex exterior paint and brushes.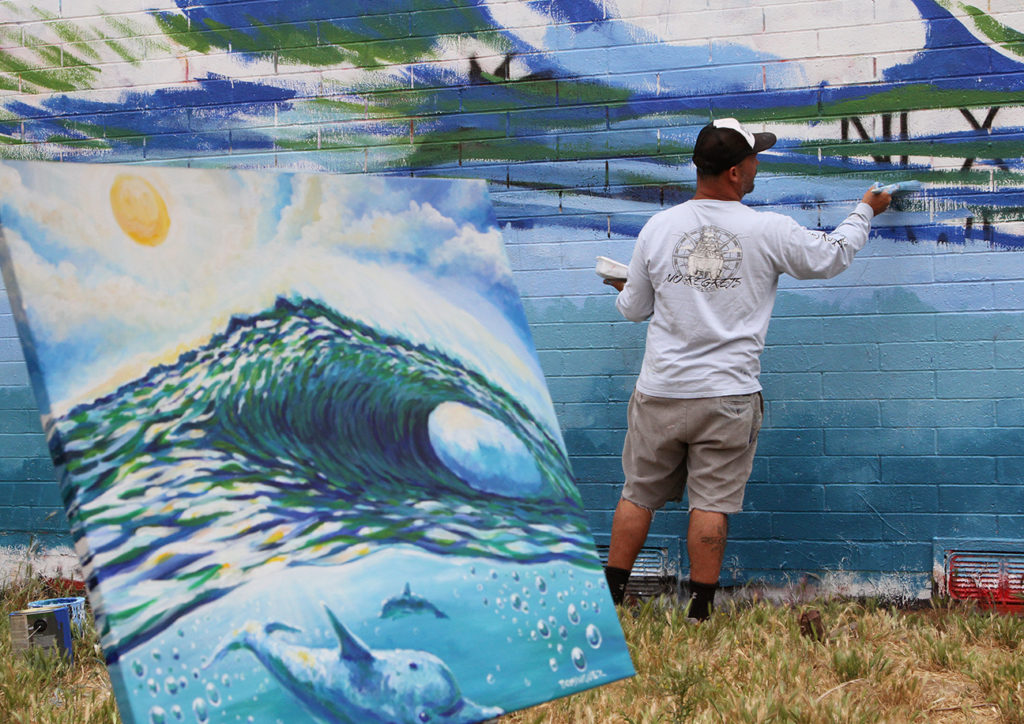 PURCHASE THIS PAINTING: seandominguez@roadrunner.com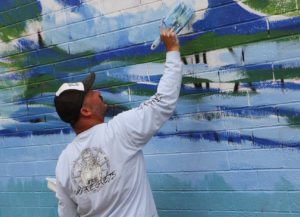 By late afternoon, the soggy clouds reached their threshold and a hefty rain dumped down. Dominguez's wave began to take shape in a series of thick brushstrokes like the canvas of a late 19th century Impressionist.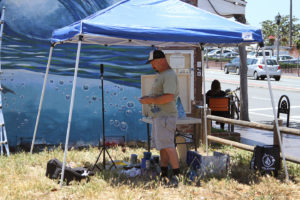 The nearby pop-up canopy offered perfect shelter for Dominquez when the rain thickened providing a much needed, and often forced, break for the passionate artist. These sporadic breaks also offered an opportunity for him to reminisce of past surf adventures.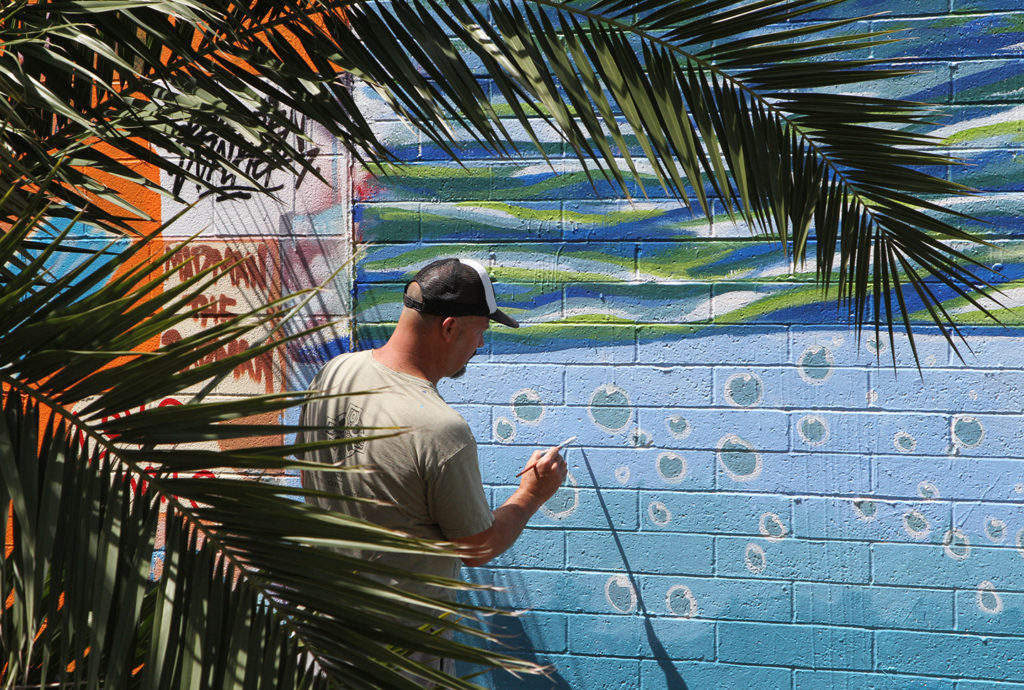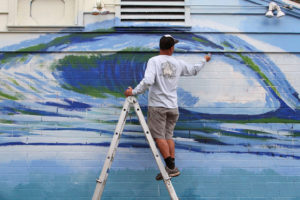 Dominguez is a well traveled surfer and artist. His global meanders are exhibited in his ocean themed artwork—each resurfacing memories of perfect surf sessions from Mexico to Bali. Dominguez shared stories of saving the unprepared at Uluwatu, surfing perfect G-Land and lonesome perfection in Mexico.
Though Dominguez often shared these stories of travel, a special warmth was felt as his stories returned back to his hometown of Carlsbad. A life-long local, Dominguez shared stories of growing up in Carlsbad, surfing the local breaks and being involved in local politics.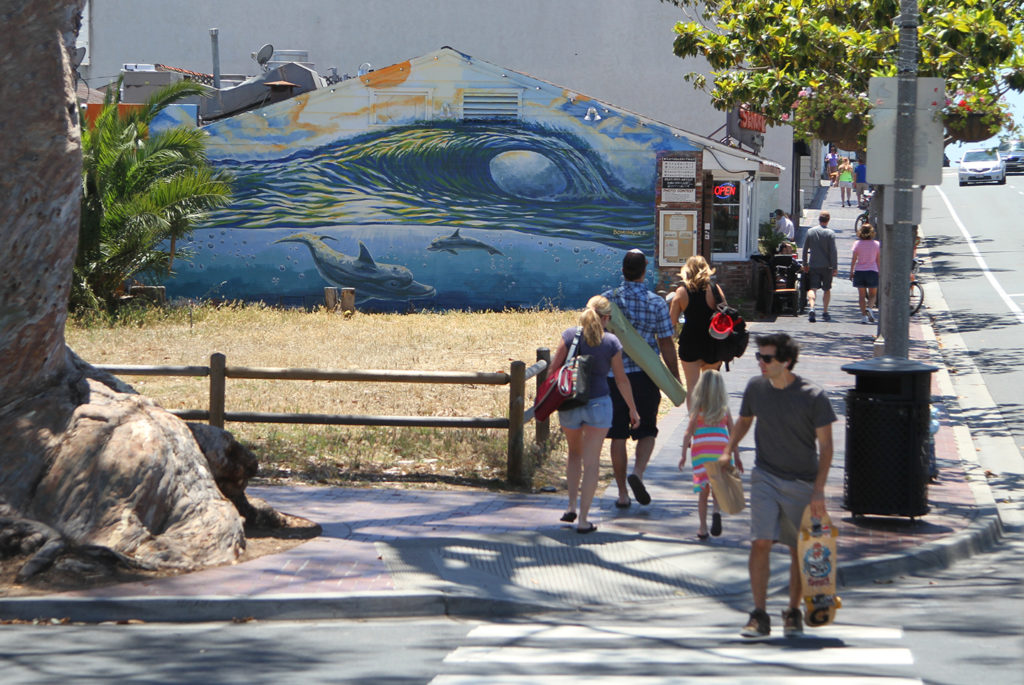 With substantial progress and roughly eight hours already logged on the wall, Dominguez called it a day, which grew to a week long break due to s wet forecast.
A week later and under a sunny sky, Dominguez returned to the wall where he focused on two large dolphins, one circling in the background while the other up front and full of smiles.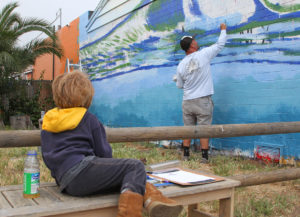 As Dominguez blended the fleeting light of the wave and smoothed the sunlight reflection on the dolphins, a number of visitors stopped to praise his skill—some strangers, but most friends of the long-time local.
Seen up and down the coast and inside homes and businesses all around the county, Dominguez's work can be found everywhere. Chances are you have even held a piece of his artwork. As the artist behind all Pizza Port and Lost Abbey artwork included on brewery beer cans, t-shirts, bar labels, etc., you have at one time or another owned a piece of his art, or at least a reproduction.
The Carlsbad Art Wall's newest mural is already providing the much needed distraction during these early signs of summer flat spells. It might not provide the ride we daydream of, but at least it will resurface some good memories.

—
Click HERE for photos of past CAW murals
—
Started in March 2015, Carlsbad Village based artist Bryan Snyder will be bringing a street artists/muralist every 2 months to paint a mural on the east facing wall of Señor Grubby's in the Carlsbad Village.
Click HERE for photos of Snyder's street art workshop: May 8th
The goal of the Carlsbad Art Wall is to serve as a conduit between aspiring artists and professional artists, to provide a platform to engage and educate the Carlsbad community in the creative act of large scale public painting and to introduce a variety of new art and creative processes to the Carlsbad community.

Directions to the Carlsbad Art Wall located at Señor Grubby's