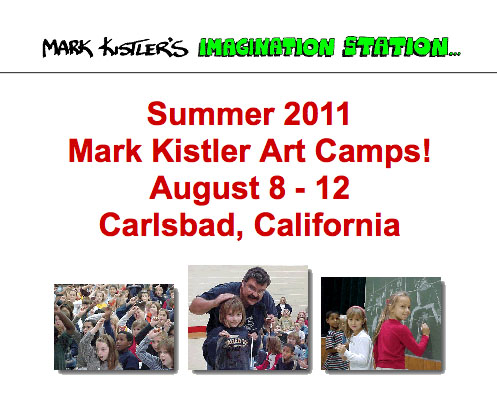 WHAT: Mark Kistler's Imagination Station Summer Camp in Carlsbad
WHERE: Pacific Breeze Baptist Church (MAP)
WHEN: August 8-12
Session 1: 9:00am – 10:00am 5 to 7 year olds
Session 2: 10:30am – 11:30am 8 to 13+ year olds
Session 3: 12:00pm – 1:00pm 8 to 14+ year olds
Session 4: 1:30pm – 2:30pm 8 to 14+ year olds
WHY: Because learning how to drawing 3-D builds important creative thinking skills, powerful problem solving skills, and a solid foundation for future art success

FEES: $89 first child, $69 additional siblings.
"Commander Mark introduced me to my life-long passion of illustration!"
– Bryan Snyder
Click HERE for more information!
Click HERE to register!