click photos to enlarge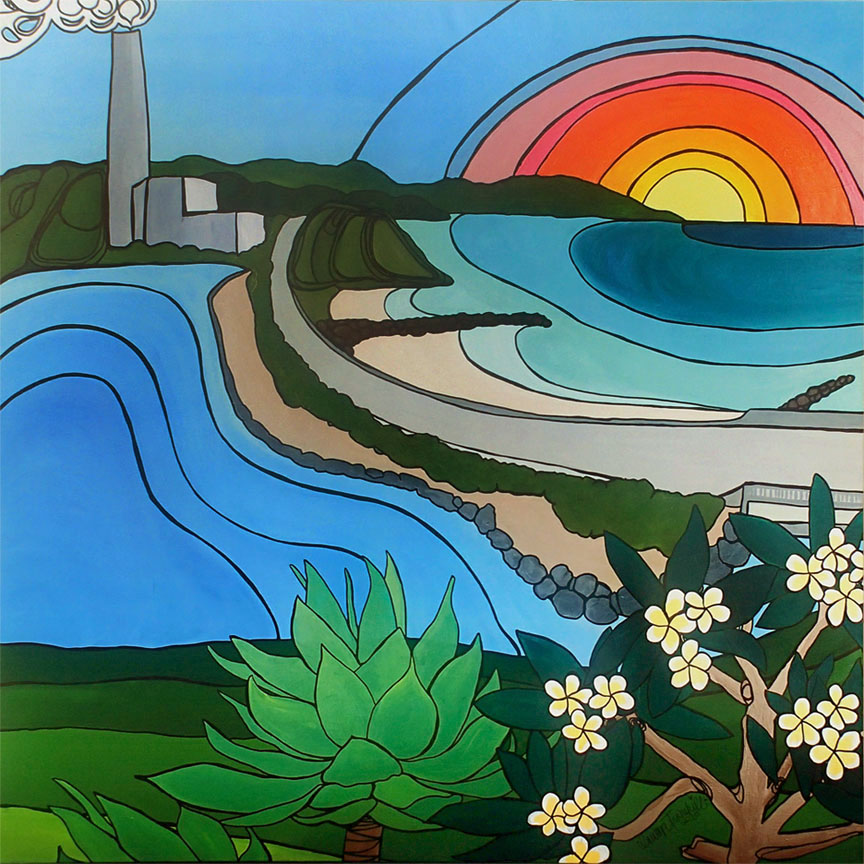 Where were you born? Where did you grow up? Where do you live now?
I was born in Torrance, California and grew up in Seal Beach. Seal Beach is very similar to Carlsbad because it a small beach community driven by the ocean. I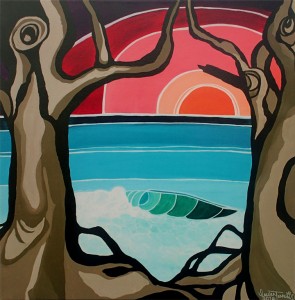 have lived in Huntington Beach, Long Beach, Los Alamitos, Mission Viejo, San Clemente, North Shore Oahu, Cardiff, Encinitas, and I have been living in Carlsbad for 4 years. It is nice to feel settled in such a rad spot!
What early memories do you have of being exposed to art? Who sparked the desire in you to paint?
Both of my Grandmas are amazing artists. They always encouraged me to paint abstract and not realism. Every time I would go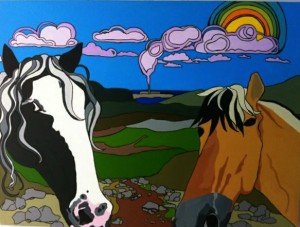 see my Grandma she would give me paint and brushes and show me new techniques she learned from Bob Ross 🙂 When my Great Grandmother passed I inherited her art box and all her oil paint, it was privileged.  I have always painted since I could remember Every time I go to my Dad's shop I see all the art I have made for him since I was a young child. He always loved anything I made for him. I didn't realize how much I loved painting until high school when surf team and art class were the only classes I excelled in.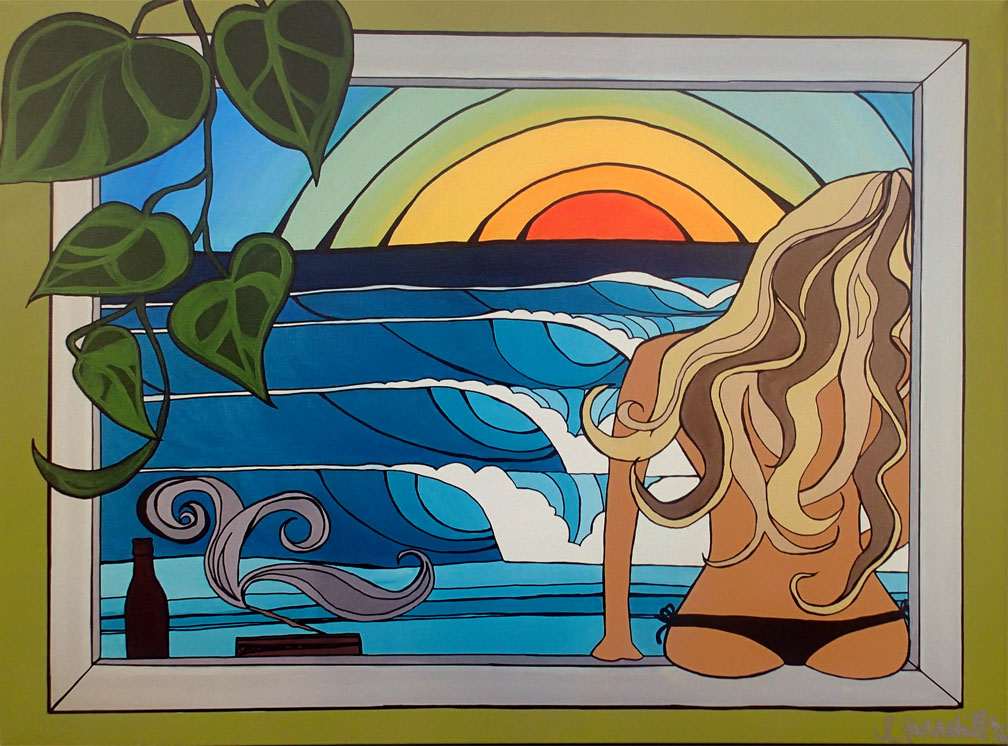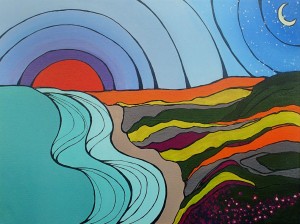 What medium do you work in? Can you describe the process which you go through when creating a new painting?
I never paint unless I am inspired. I get inspired from all kinds of random things in daily life. I love working with things that people are going to throw away or unique garage sale finds. My neighbor is a contractor and brings home all kinds of cool stuff for me. I paint on wood, canvas, BBQs… really anything. I use acrylic,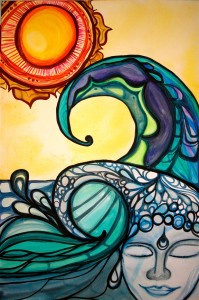 watercolor, magazines, newspaper, spray paint, house paint- I try not to limit myself because you can get really cool effects when using different mediums together. I have a studio in my back yard with a beautiful view. I like to paint at home so I can be close to my family.
Today do you find influence in any past or present artists?
Yes! I recently saw a piece of art that Jay Alders did called "Beaming with Abundance"  and when I saw it, I cried. It was so beautiful. He is such an amazing artist. My biggest influence has been Peter Max. I love his work. It is so wild and groovy with super clean lines and bright colors. A couple years ago someone referenced Peter Max while looking at my art. It was quite a compliment.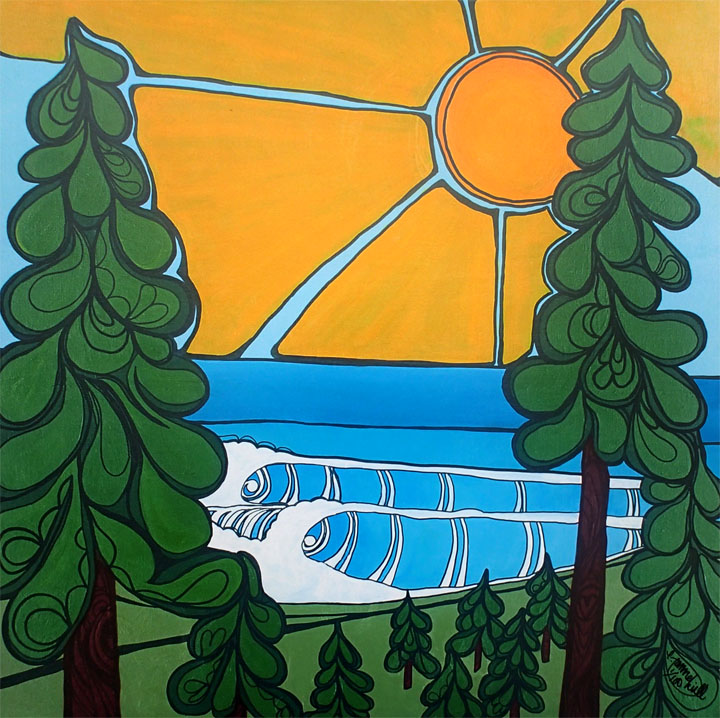 Did you study art while in college in Hawaii? How did living in Hawaii influence your art and your artistic lifestyle?
Hawaii is so beautiful. It is impossible to not be inspired. Hawaii was a crazy turning point in my life. When I decided to move to Oahu, it was very spur of the moment. I was 19 and feeling a lot of pressure from my family to pick a career. I chose massage therapy because I am really into embracing a holistic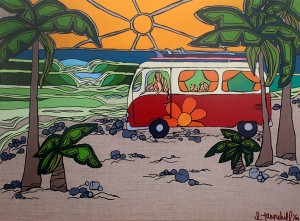 lifestyle. I wish that someone would have told me that you can go to school for art. I did not think that I could turn a hobby that I loved into a career. I did not think that I could be a professional artist for a living. In fact that thought didn't cross my mind until after I moved home from Oahu. (Up til about 2008, I gave most of my paintings away because I did not feel as though my work was worthy enough to sell.) I always tell young people who like art to follow that dream, and that they don't have to conform to a traditional career.
Much of your artwork is ocean and surf related. How long have you been surfing and where did you learn? Where are some of your favorite places to surf in Carlsbad? In the world?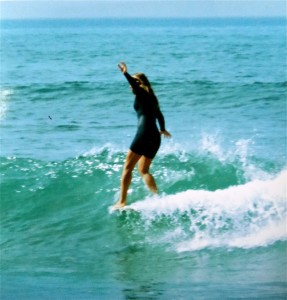 All of my art is surf related except for the art I create for my mom. I have done some desert, cactus and angel things for her. I am open to painting most things but I love the ocean. It is such a part of me and who I am. I starting

surfing with my sisters when I was 13. I lived with my Dad in Seal Beach and surfed at the pier with my surf team. My sisters and I liked to surf Bolsa Chica and when my older sister got her license, we would drive down to San Onofre after school. I love the ocean because it always makes me feel happy and grounded. It makes me remember what really matters in life and why simple is better. Now, I always surf at Tamarack Beach because I live right above it so it's easy for my husband and I to take turns watching our daughter, not to mention that we can walk there.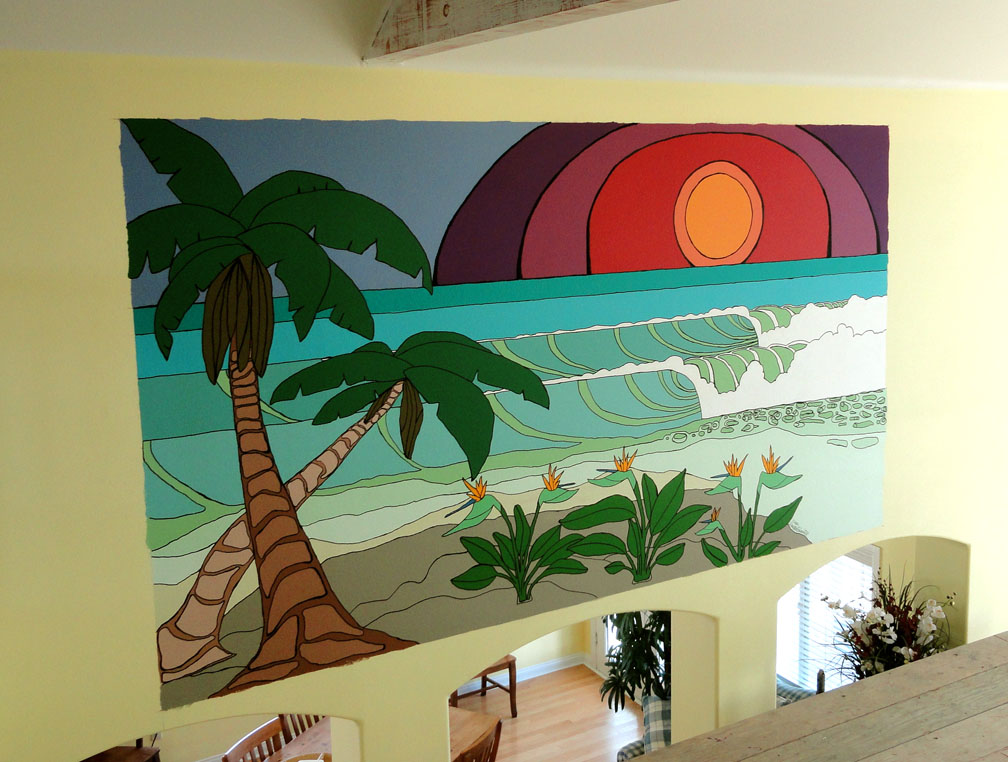 Do you prefer to paint on canvas or are you open to different surfaces?
Well, I love the fluidity of water and the ocean. I really connect with the movement of the brush strokes. I can move with more ease over a smooth surface, but it's not necessary. I just finished a mural on a textured wall, it just means I need more paint and I have to slow down. I tend to paint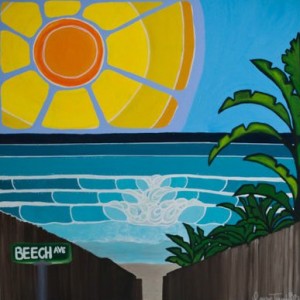 very fast! As far as random objects to paint, I like to paint on corks and turn them into mushrooms. I put a little stick in the bottom and put them in house plants. They are fun projects for my daughter and I.
Much of your art has a strong connection to nature. How does this work into your art and your lifestyle?
I am not inspired by Babylon, building up on empty lots, what most people think is progress really turns me off. To me it's sad.  I believe that simple living saves lives. When I am cruising through Carlsbad and I see beautiful empty lots (which are like gold) I think how nice they look. I think we should
build less housing and implement more community gardens all over town. Someone was spray painting a sign that said "Carls-good?" on the yellow permit boards on empty lots when they are about to be developed. I liked that. I think that they wanted the community to think twice about what is good for our city. I like guerrilla style art. I think most of it is very well thought out to make people think.
You mentioned that your work can be seen in galleries and cafes all over California. From your experience, how are the two setting similar and different. Which one do you prefer? Why?
Cafes are definitely more intimate and you can reach out to people who normally would never step foot in an art gallery. I think you can also make someone smile at 8am when they are grabbing their morning coffee. Galleries bring their own sense of greatnes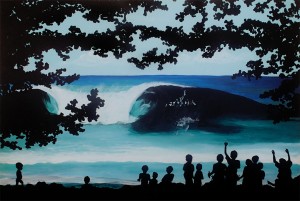 s. It is a good way to be taken seriously as an artist and get involved with benefits and fundraisers.
Other than painting and surfing, what other hobbies do you have?
I have an organic veggie garden in my backyard that I LOVE. I have been so busy lately that it has been put on the back burner. I feel as though it is really important to teach children how to grow their own food and that vegetables come from the Earth. It teaches awareness for our environment and respect for Mother Earth. Horseback riding is something that I have also done since a very young age. I like the solitude and quiet of riding on trail in nature. I also love to sew. I used to make updated women's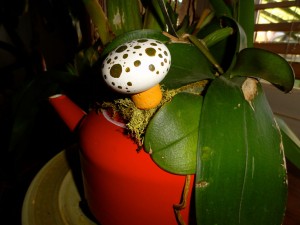 clothing from old clothes. I am going to be combining my love for sewing and my love for art to create one of kind wearable art for women. I have been working on this project for some time and really look forward to coming out with a new line of bags and clutches for women!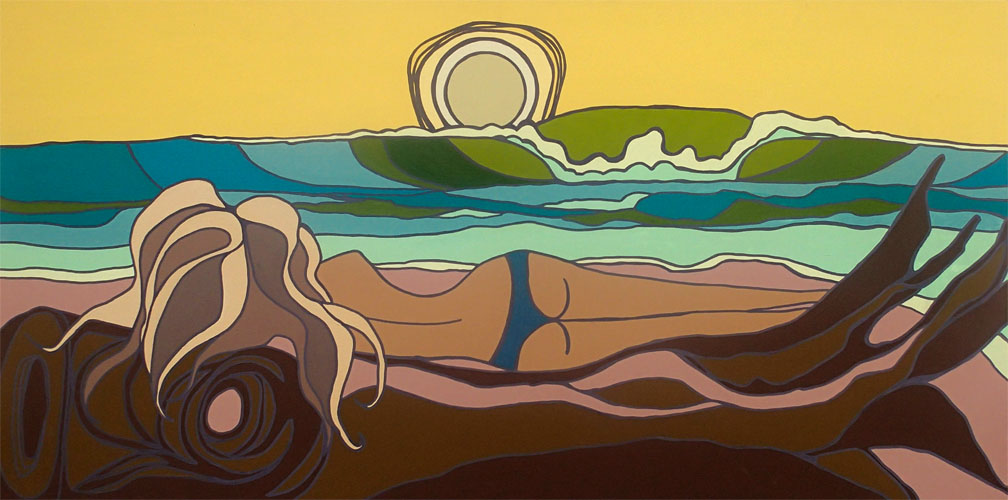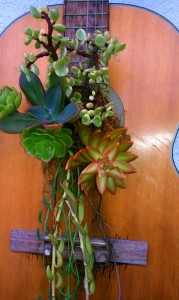 What are your future plans as an artist? Do you experiment in other styles?
I feel like my style changes depending on my mood. I am going to start putting more of my different style art up for sale because you never know who may connect with it! My ultimate goal as an artist is to travel the world with my family, painting. I would like my art to create awareness for our environment and our oceans. That is the direction that I am currently working toward. Making art to donate to organizations who are fighting for respect for our Ocean. We need to make some major changes to the way we care for each other and our World. I believe it starts with each one of us and in our community!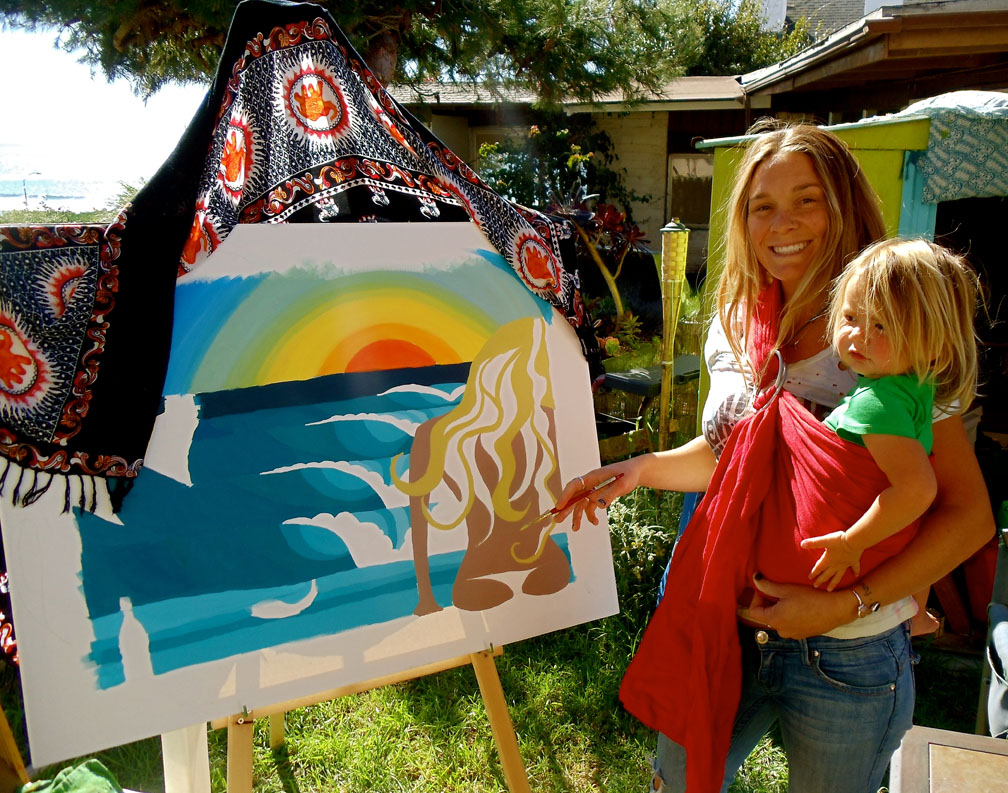 How do you feel about Carlsbad in terms of an artistic community? Do you feel local artists are motivated to create and share ideas here?
I think that there is a big art scene here in Carlsbad. Honestly I think that it is more geared toward an older crowd. I am not seeing too much new funky fresh art in a lot of the local galleries. That is not a bad thing, it just means that there is room for growth within Carlsbad. There are a lot of older more traditional ideas and influence which has made this city so safe and family friendly. We are able to cater to a larger more diverse crowd of people but I see a huge shift from all the younger people and young families wanting the city to keep evolving to become what it has the potential to be. I love Carlsbad, it is a mellow beach community and I feel as though it has a very different feel then some other local beach cities. I think we are on the right track. Carlsbad is really starting to come into its own and I feel grateful to be apart of it's shift.
For purchasing information, visit:
www.laurentannehillart.com
Click HERE to leave a comment!