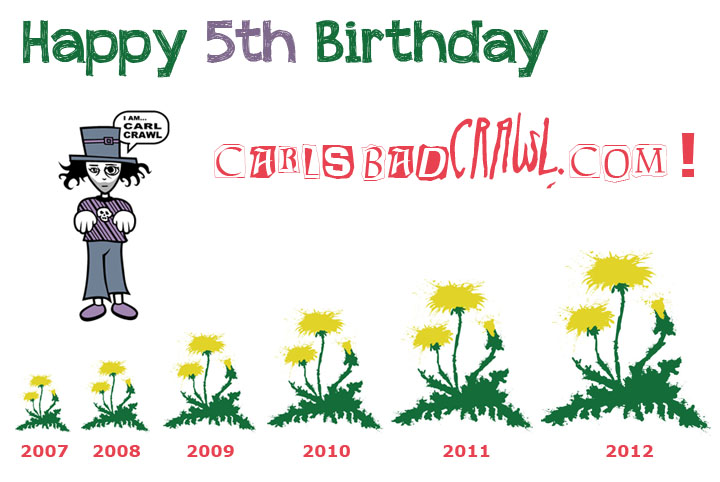 Carlsbadcrawl.com began on November 28th, 2007 with a single photo of the Carlsbad sunset from a balcony over Jefferson St. This photo fused with the thousands of memories of growing up in the Carlsbad Village ignited the desire to share and showcase our Village with the goal of encouraging the development of a more artistic local culture, promote local business and add creativity to the local streets.
What started out as a blog with a small audience of friends has grown into a highly visited destination for web browsers both local and from afar. The numbers grow exponentially each year as do the carlsbadcrawl.com funded and sponsored projects, public art installations and local artist interviews.
In the past 5 years carlsbadcrawl.com has funded, hosted and organized a wide variety of public projects including PROJECT: Plant and Egg and PROJECT: Plant an Ornament. The highly anticipated 'You Create the Art Show' annual art event with all the art created the night of the show by all who attend the show is a local favorite, and a number of additional community events scatter the year, all which are promoted and concluded here on carlsbadcrawl.com.
To improve culture and community, Carlsbadcrawl.com travels the globe in search of artistic observations. These observations are brought back to our village with the goal of introducing new culturally stimulating assets to the community. Carlsbadcrawl.com has traveled as far as Australia, China, Europe and Central America documenting culture.
Each year concludes with a Carlsbad Village Local calendar completely funded by local business sponsorships and designed by Snyder Art and Design. This calendar highlights 13 of the past year's best photos, while also showcasing the Carlsbad Village in a more artistic way. Due to the local support and financing made possible by the sponsorships, 500 calendars are given out for FREE to Village businesses, locals and village visitors.
This blog is more than a thread of photos. It is a documentation of our village. It showcases what is going on in the streets, the events within the community and the people that make the village such a special place.
I hope you have enjoyed all my ideas, projects, rambles and labors over the last 5 years… and remember, keep those eyes open!
Carlsbadcrawl.com and all the related projects are funded by Snyder Art and Design and sponsorships from other local businesses. Email theartist@snyderartdesign.com to request donation and sponsorship information.
Bryan Snyder
Snyder Art and Design
Carlsbadcrawl.com
"creating culture one idea at a time"
Click HERE for all the local artist interviews!
Click HERE for the local village projects!
Click HERE for the artistic observations around the globe!
Click HERE for the village street installations!