click images to enlarge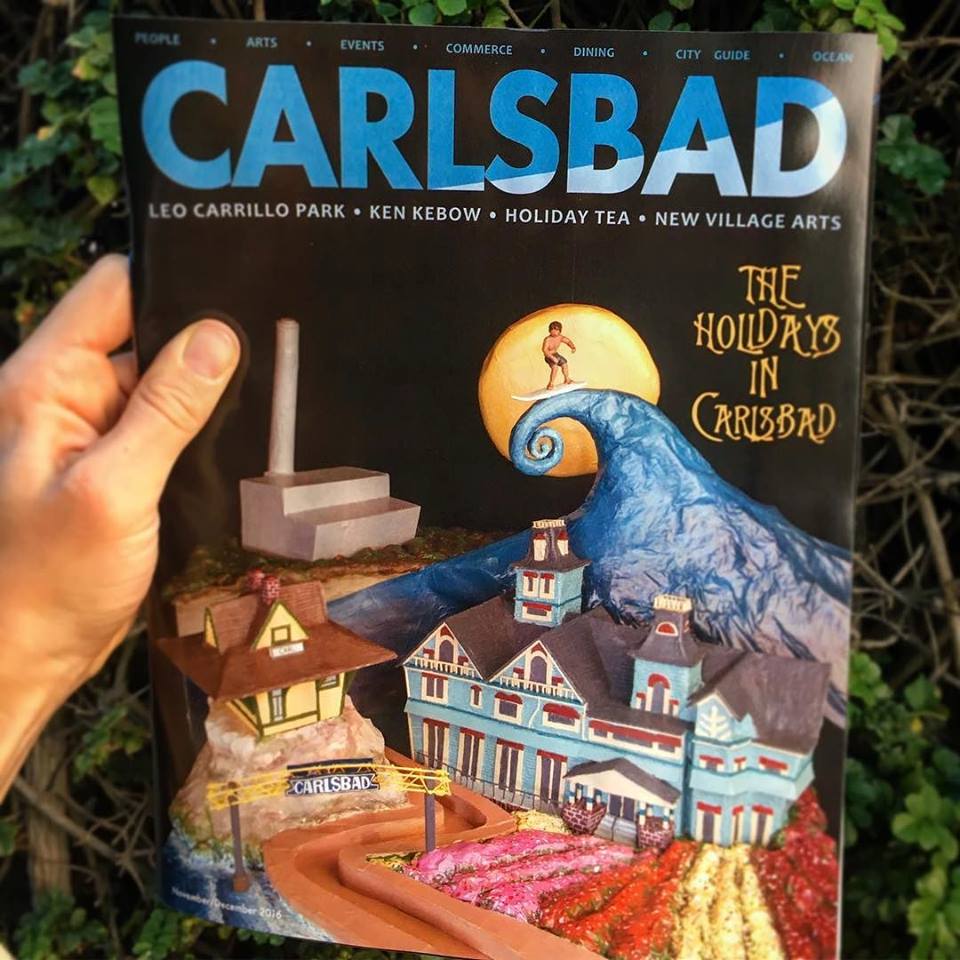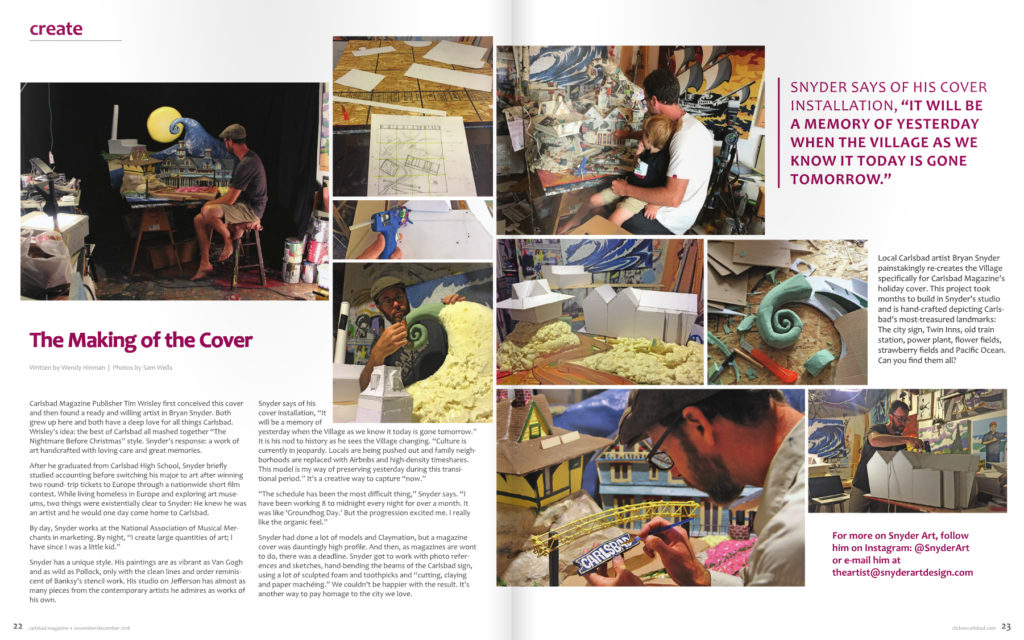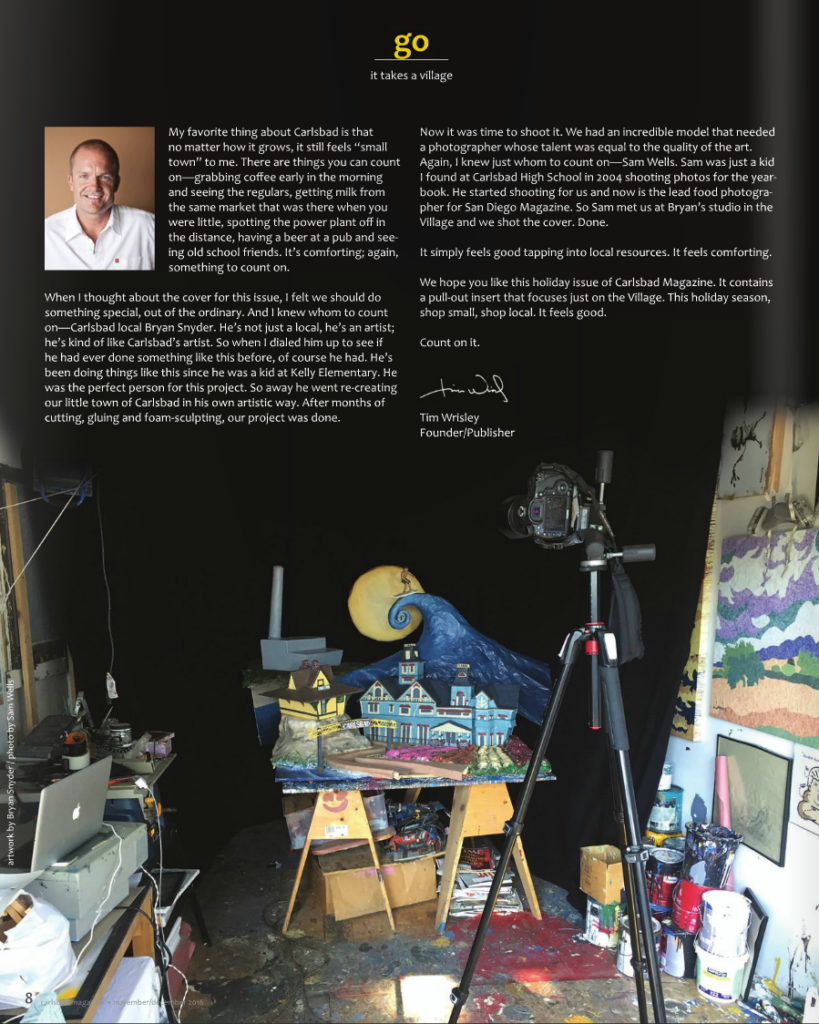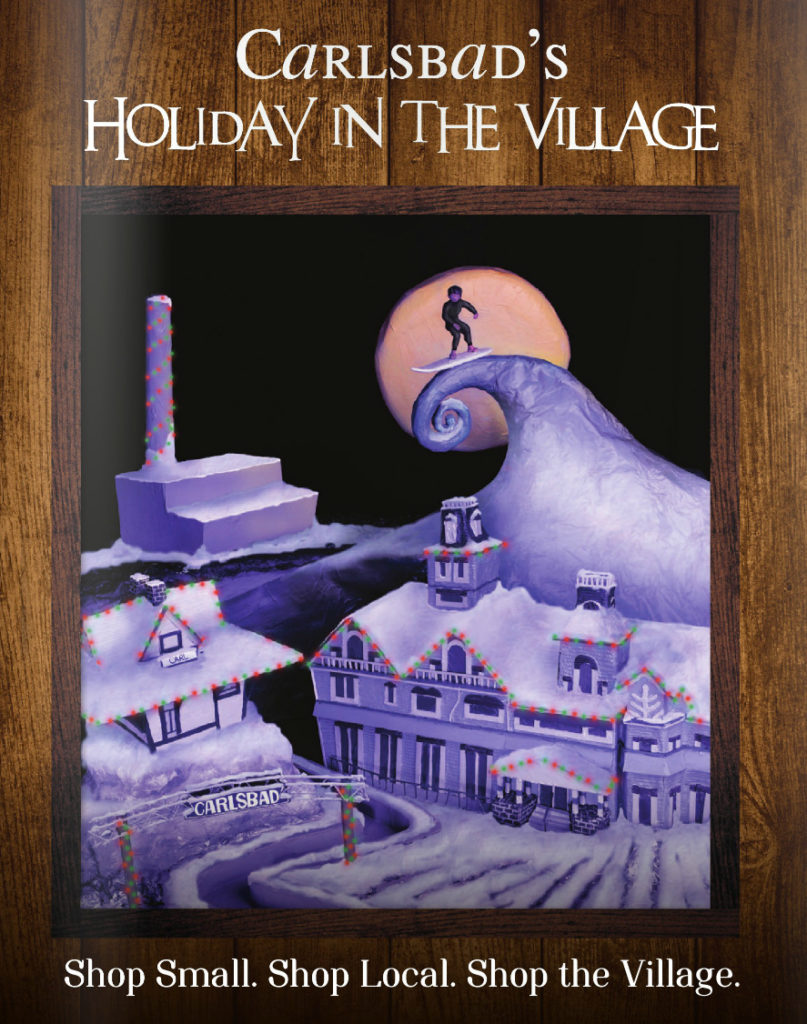 The Making of the Cover
by Wendy Hinman
Carlsbad Magazine: November/December 2016

Carlsbad Magazine Publisher Tim Wrisley first conceived this cover and then found a ready and willing artist in Bryan Snyder. Both grew up here and both have a deep love for all things Carlsbad. Wrisley's idea: the best of Carlsbad all mashed together Nightmare Before Christmas style. Snyder's response: everything handcrafted with loving care and great memories.
After he graduated from Carlsbad High School, Snyder briefly studied accounting before switching his major to art after winning two round trip tickets to Europe through a nation wide short film contest. While living homeless in Europe and exploring art museums, two things were existentially clear to Snyder, "I knew I was an artist" and he would come home to Carlsbad.
By day, Snyder works at the National Association of Musical Merchants in marketing. By night, "I create large quantities of art; I have since I was a little kid."
As a painter, Snyder has a unique style. His paintings are as vibrant as Van Gogh and as wild as Pollock, only with the clean lines and order reminiscent of Banksy's stencil work. His studio on Jefferson has almost as many pieces of the contemporary artists he admires as his own.
Snyder said of his cover installation, "It will be a memory of yesterday when the village as we know it today—is gone tomorrow." It is his nod to history as he sees the village changing. ""Culture is currently in jeopardy. Locals are being pushed out and family neighborhoods are replaced with AirBnBs and high density timeshares. This model is my way of preserving yesterday during this transitional period.".
"The schedule has been the most difficult thing," Snyder said. "I have been working 8:00 to midnight every night for over a month. It was like Groundhogs Day (the movie), but the progress I saw each morning after a long night kept me excited."
Snyder had done a lot of models and Claymation, but a mag cover was dauntingly high profile. And then, as magazines are want to do, there was a deadline. Snyder got to work with photo reference and sketches, hand bending the beams of the Carlsbad sign, sculpted foam, lots of toothpicks and  "cutting, claying and paper macheing." We couldn't be more happy with the result. It's another way to pay homage to the city we love