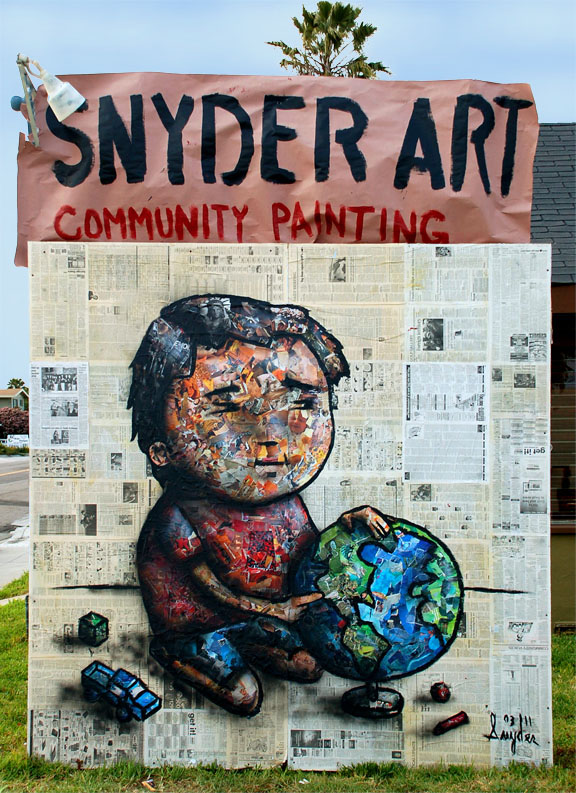 The corner of State and Beech animated with creativity as local art and culture enthusiasts participated in a creative gathering organized by Snyder Art and hosted by Byrnes Furniture Restoration of UpState (North State Street).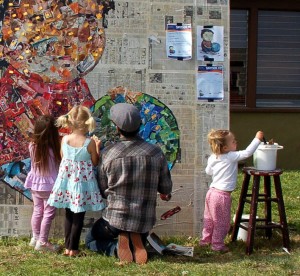 Through a wave of 30+ flyers put in the streets, all which Snyder promptly removed the day after the event, and an online marketing campaign, Snyder advertised his latest idea of a creative gathering and collage collaboration. He provided an 8ft. x 8ft. canvas with a thick outline of a character seen in his new and building collection of Doodle illustrations. Participants were invited to paste tear-outs from a large stack of donated
magazines to the giant canvas, ultimately filling in the illustration's color. The piece of art, worked on by nearly 30 artists through-out the day, was concluded by Snyder by using a shading technique in spray paint.
"I love the New York art feel you bring to Carlsbad", artist and Carlsbad resident Shelby commented. "This is amazing!"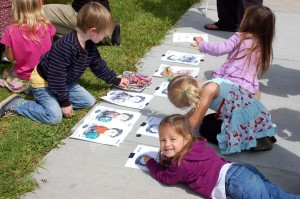 This idea first originated years ago while Snyder was exploring the back alleys of New York City. He noticed layers of street art pasted on walls by dozens of artists over many months. "These walls became giant canvases. I realized the potential of this idea as a communal gathering."
This is not the first artistic event Snyder has organized. After living in the "culturally laden" community of the San Francisco Bay area for 3 years where he finished his degree in the Electronic Arts: Multimedia, Snyder returned to his home town of Carlsbad with the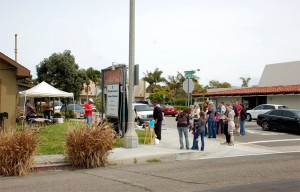 goal of introducing more art and creativity into the local community. Underground art scavenger hunts soon began appearing in the streets. "Plant and Egg 2008" was his first community project where he scattered 50+ "brightly colored and crafted" eggs in the streets the night before Easter. Each one contained a log number which invited egg finders to visit www.carlsbadcrawl.com to log the egg, ultimately exposing a single piece of a puzzle.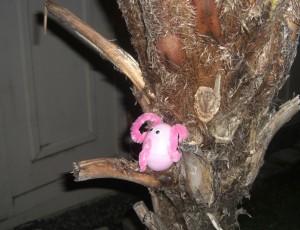 "This was a pleasant surprise for our vacationing family", commented a family visiting Carlsbad during Easter 2008. The positive feedback from locals and visiting families encouraged Snyder to develop additional projects including "Plant a Pumpkin" and "Plant an Ornament". Snyder also hosts an annual solo art show at his studio catered by a local restaurant and live music by a local band. In addition to his annual show, he also hosts an annual event titled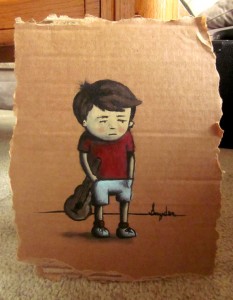 "Created by You", an art show where all the art is created the night of the show by all whom attend the show. There have also been rumors that Snyder scatters hand painted doodles in the Carlsbad Village streets on occasion. Hints can be found on the Snyder Art and Design facebook page.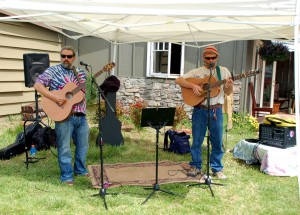 Snyder's latest creative gathering was just what long time participants expected. "I love me some Sprout Farm…always and forever", Socorro Jaurehui commented. Snyder offers local bands the opportunity of exposure. "Sprout Farm is my house band. Their music is colorful and ideal for a creative atmosphere", Snyder explains. Free food courtesy of Paradise Pizza of Carlsbad, Snyder's favorite pizza joint, was delivered through-out the day.
When asked what he plans on doing in the future, he replied…
"creating culture one idea at a time!"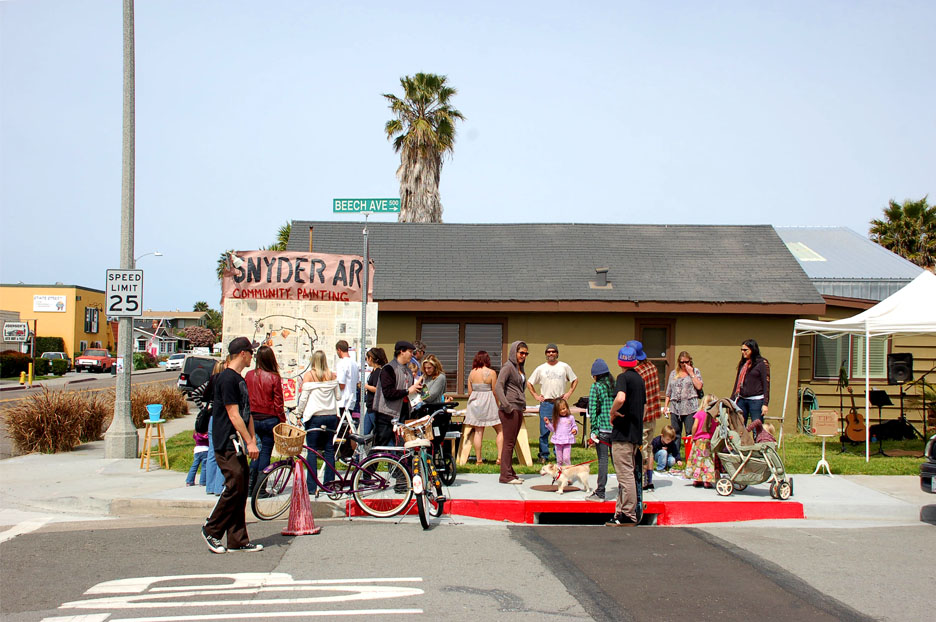 Snyder is currently looking for a location to house the 8ft. canvas. He hopes to find a community location since the community helped make it. If interested in housing the collective piece of art, contact Bryan Snyder.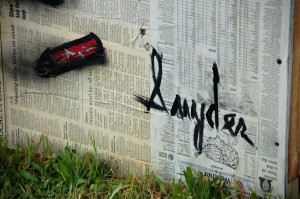 Bryan Snyder
www.snyderartdesign.com
theartist@snyderartdesign.com
760.521.8713
Click HERE for all the photos of the event!