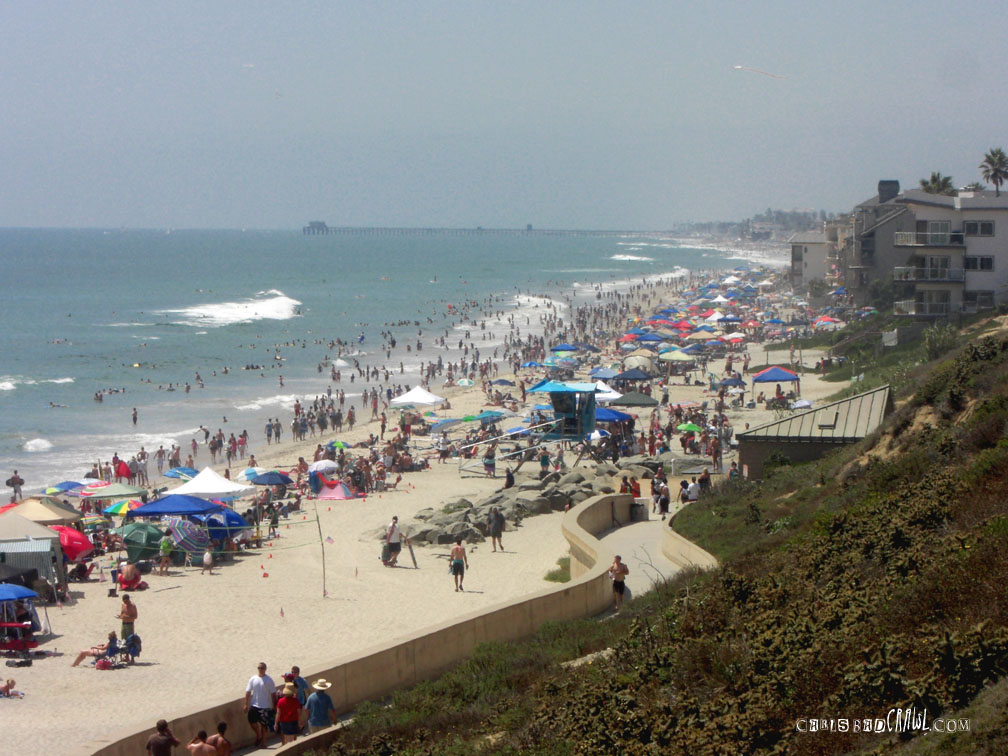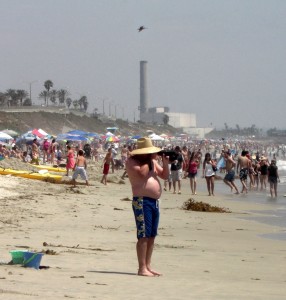 The ocean blue kissed the cloudless sky all day as the coastal Eddie stayed far from the Carlsbad coastline over the long holiday weekend. Bare feet scampered over hot sand and overhead kites whipped in the Summer breeze. Hundreds of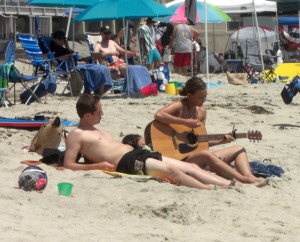 colorful umbrellas pierced the shore like a tailor's needles pricks a plump cushion and the infrequent wave crashed upon the beach.
This may seem like just another day at the Carlsbad beaches, but with the 4th of July celebration in full force, it was far from ordinary… and more crowded than any recent year. The crowds grew exponentially throughout the day leaving empty patches of sand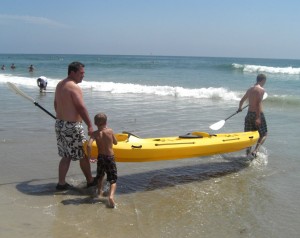 as rare as a cold barbeque grill, as inconceivable as a dry keg cup and as unbelievable as a holiday conclusion without the loud explosions of neighborhood fireworks.
Any other ordinary Summer day in Carlsbad begins with an early morning glance skyward in search of the sun through the dreaded June gloom, which often rolls into July. If squinted eyes meet the shining sun, the excited announcement of a beach day will tumble down the village streets. On the 4th of July, the shinning sun becomes a plus, but not necessary.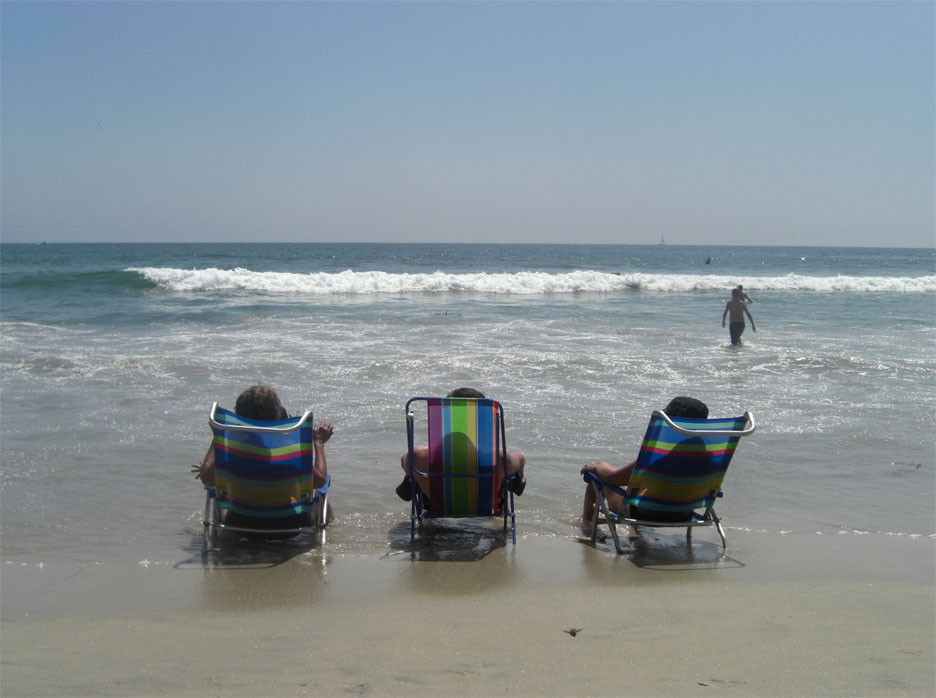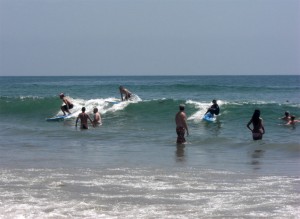 With or without the giant star in the sky, large crowds headed for the coast, some arriving as early as 5am to create a perimeter. Barbeques grilled large quantities of meat and umbrellas competed for space with large pop-up tents. Ladder Ball, Frisbee, Smash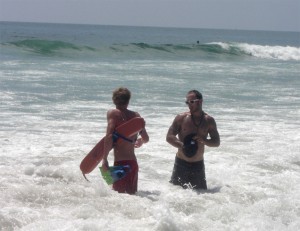 Ball and a slew of other games entertained between dips in the ocean and snacks in the sand.
Along with the food, swimming and games, a wide collection of people watching provided ample entertainment. Tourists animated with unrecognizable traditions. Bathing suits the size of jock straps enticed smiles and foreign meals sent puzzling scents along the sand.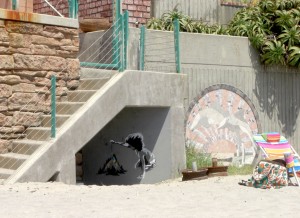 Whether you were walking from The Point to Tamarack or stationary on your towel, an unforgettable observation was only a frisbee toss away.
As often as an odd observation, a friendly face was just as common. Locals have this holiday down usually parking in the same unspoiled secret spots, riding bikes down the same uncrowded back roads or setting up camp at the same beaches. A walk down the beach was a social outing where friendly faces invited conversation and the short stroll turned into an all day adventure.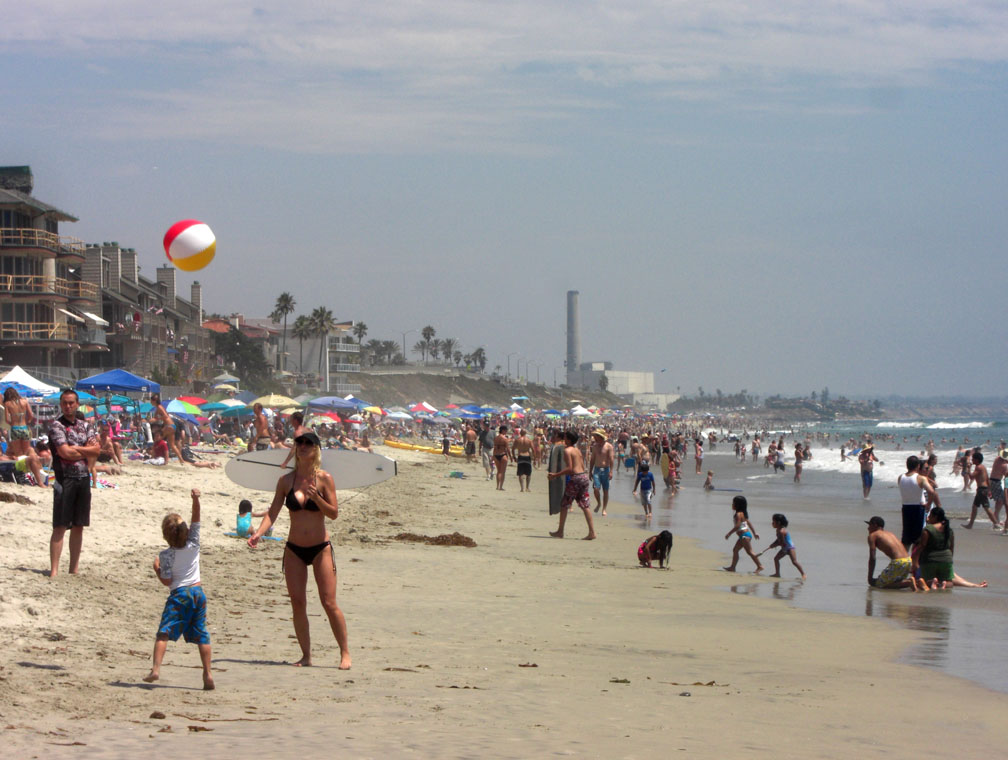 The Carlsbad beach during Summer becomes the best friend of any local or visitor. Smiles are contagious and laughter is uncontrollable. Children spend hours digging holes, playing games and swimming. Adults… they do the same. If there is one place where adults can let down their guard, forget about their careers and be a kid again, it is the beach…
… and this 4th of July in Carlsbad was the perfect time!
Click HERE for coverage of the Oceanside Parade!