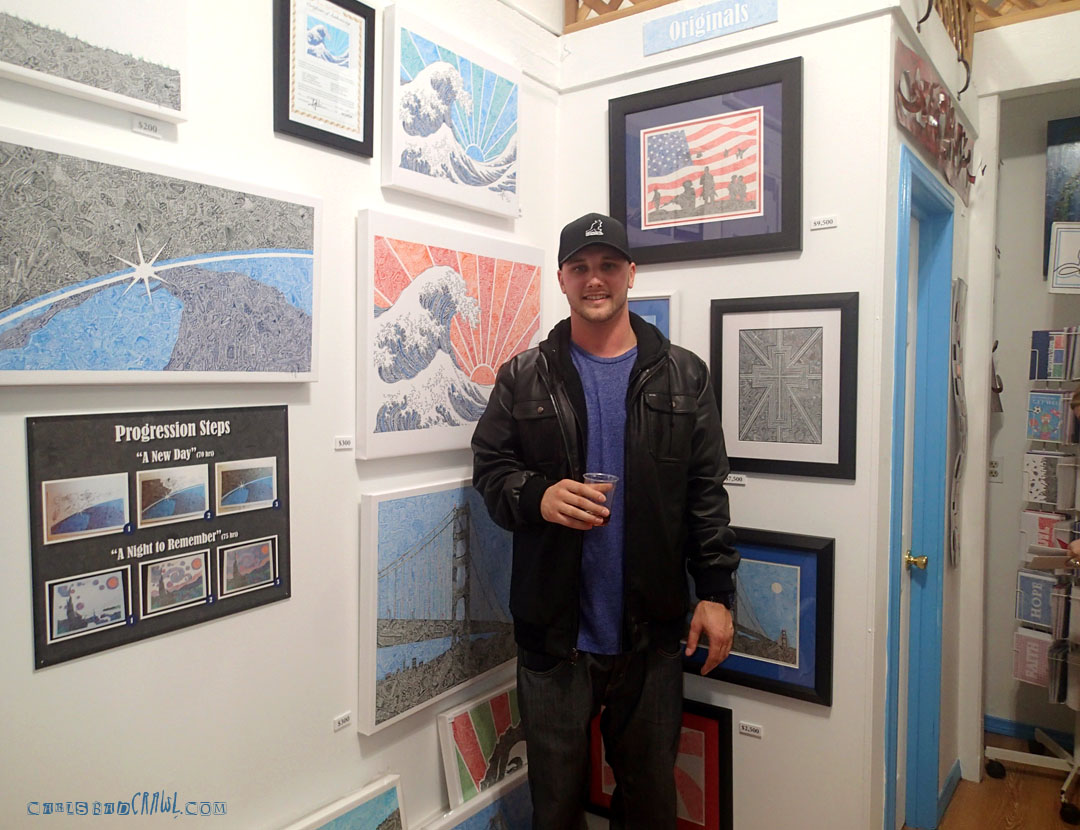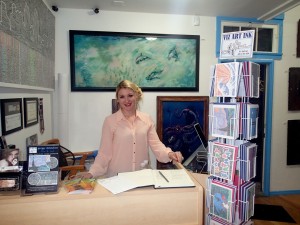 On Saturday Feb. 2, Carlsbad resident and artist Greg "Viz" Visintainer introduced his new Viz Art Ink Gallery located at 2906 State Street in the heart of the Carlsbad Village to locals and visitors with a night of complementary food, music by Chris Moberg and special event art discounts.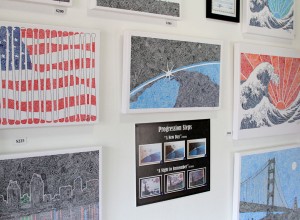 The gallery walls displayed a wide assortment of Visintainer's art from originals to print reproductions. His imagery included pop iconography, sports, city-scapes and geometric abstractions, but a step closer introduced guests to a whole new world within each composition.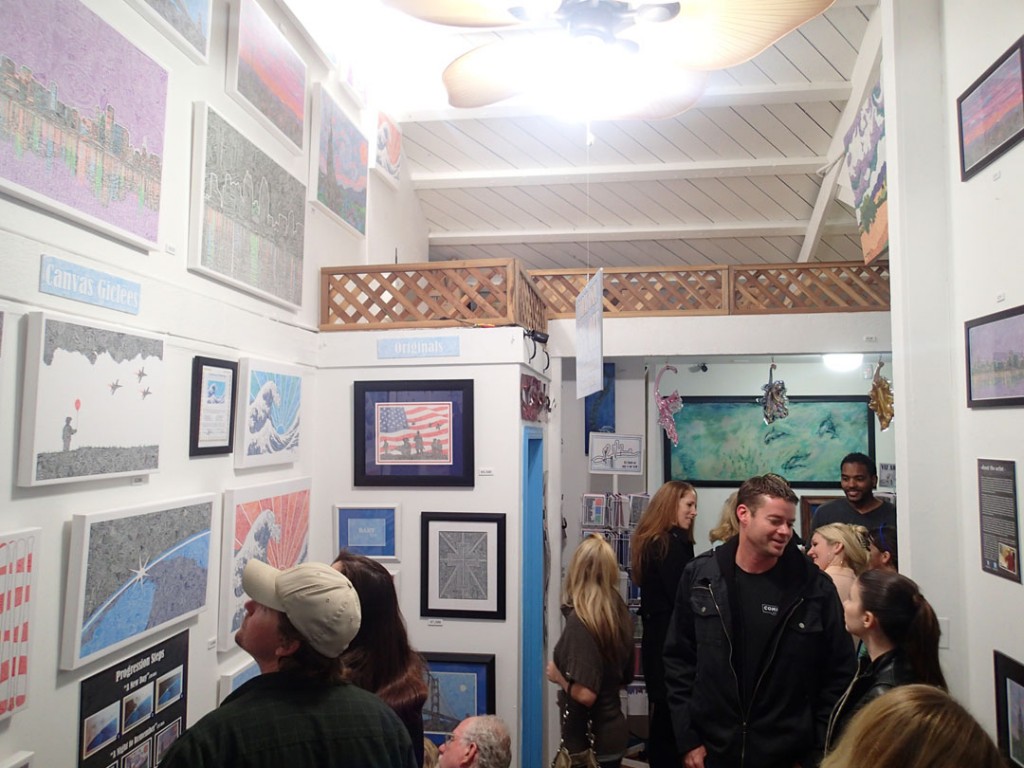 "Viz Art Ink takes doodle illustrations to the next level," Visintainer explains. "The main image is created by dozens of images within the main image."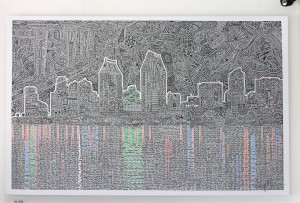 Each composition begins with weeks of research which ultimately leads to the hidden imagery that makes up each piece. Visintainer even goes as far as visiting locations around the US as a way to inspire content for his future illustrations, as well as to do the final piece justice.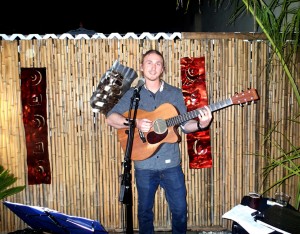 "The hidden images make great conversation pieces," Henrietta Matteucci visiting from San Jose shared. "I even saw a little girl shout out that she found a hidden bear as she stood in front of a piece."
Jake Johnson visiting from Long Beach was given a Viz Art Ink piece as a gift prior to the gallery opening. He made the drive to Carlsbad to support Viz, and being a fellow artist, to research Viz's professionalism.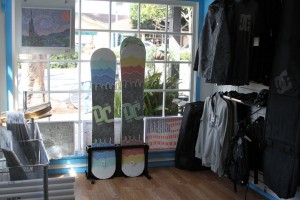 Visintainer's approach to creating and selling art has been perfected through years of selling his illustrations at street fairs and festivals, but he began his pen ink illustrations as a simple way to pass time in class beginning at the age of 15. They later became a therapeutic process that helped him cope with hardships he faced in life.
"It's my meditation therapy and how I get rid of my demons," Visintainer explains. "Whenever I am going though tough times, I draw."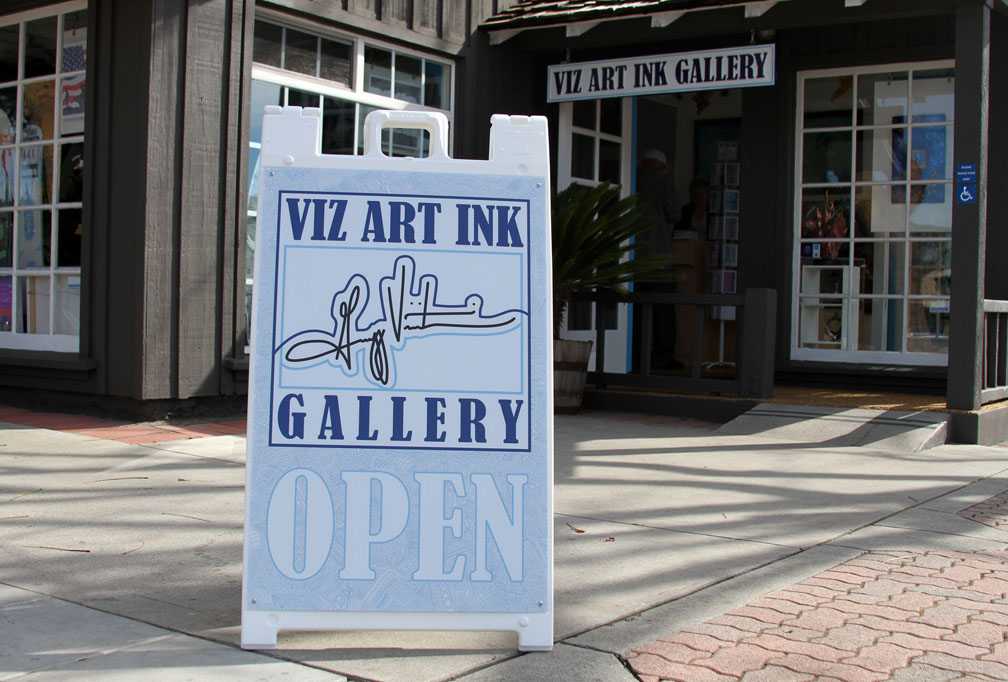 Though his process is very meditative, Visintainer also works closely with companies where he has created brand specific Viz Art Ink pieces for DC snowboards and apparel, which can be browsed at his gallery.
Viz Art Ink Gallery is open Tuesday-Sunday 10am-6pm.