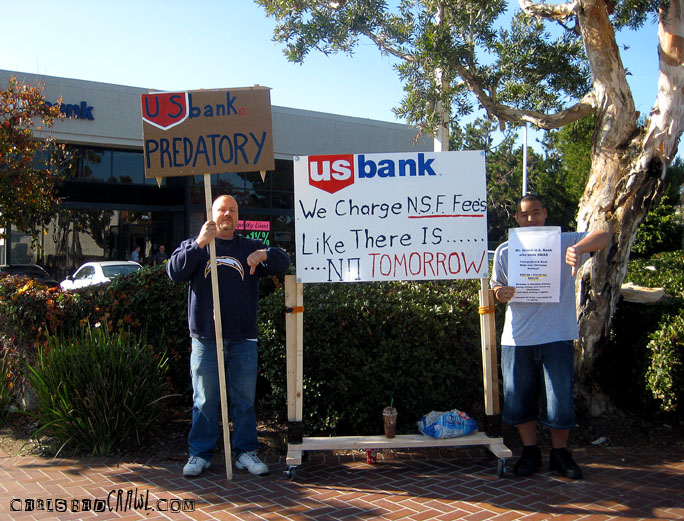 Patrick Matson, of P&M Maintenance, ended his 2008 in a confrontation with US Bank. From his point of view, cash deposits were not recognized in his available balance resulting in an account penalty fee each time he used his debit card. Eventually his account was completely depleted leaving him stranded in Glendale, Arizona and far from his family during the holidays.
Patrick, now back in Carlsbad, plans on protesting the alleged unethical practices of the US Bank until he is reimbursed in full. When asked how long he plans on remaining outside the bank's property, located at Carlsbad Village Drive and Jefferson St., he replies, "as long as it takes."
The Carlsbad police visited him three times on this specific day and once demanded him to keep the base of his sign, which read "US Bank Predatory" and "US Bank-We Charge N.S.F. Fees like there is no Tomorrow," off of the bank's property. This is when Patrick built his rolling stand. He also encourages the interested to read his laminated bank statements for a better understanding.
Patrick seemed extremely disgruntled and very candid with his retaliations. "I have already filed with the small claims and am pushing to influence the denial of the bank's lease renewal."
2008 may be in the past, but it still casts a dark shadow. We can only hope 2009 ends on a better note for him and for us.


Confrontations, though unwanted, are unavoidable. Grocery store lines heat with agitation and highways honk with obscenities. Sibling rivalries destroy family traditions and office egos swell with brown nose back stabbings. Foreheads glisten blue with bruises from the last headbutt and a deralicto rat eats cheese from the ass of the overly jolly.
How do you handle your confrontations? Pen? Sword?
Patrick Matson
760.809.3179
P&M_Maintenance@yahoo.com