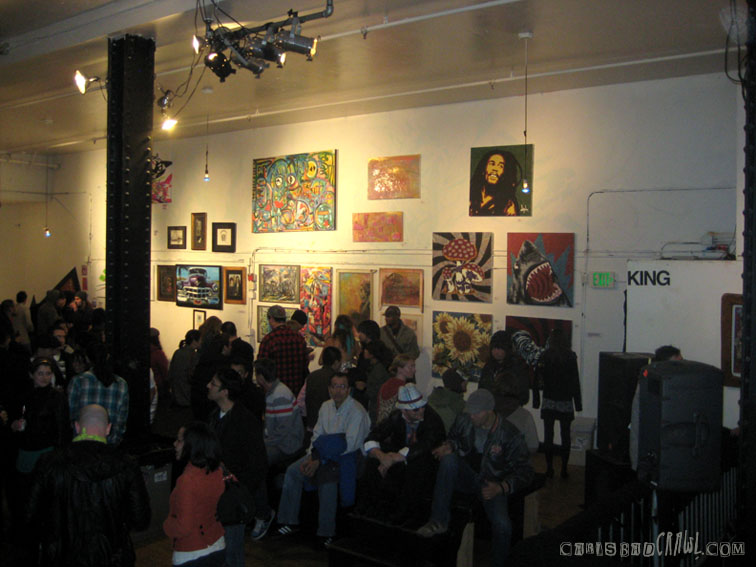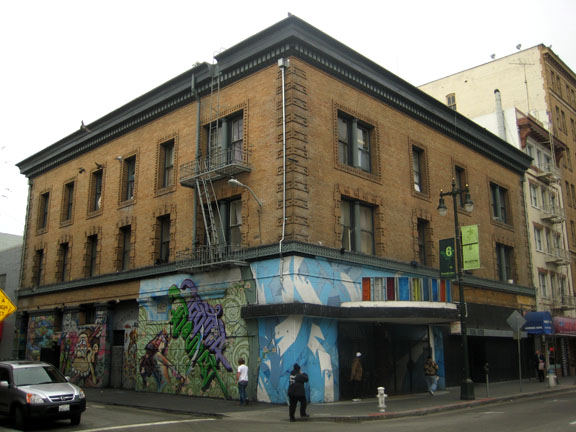 6th street, located just off Market, crawls with meandering hobos and sleazy drug dealers. Energy buzzes like a misguided bee hive. Skirmishes outbreak like an inner city epidemic and the corner thrives with business. An old building, slightly dilapidated and surrounded by stagnant puddles, stands firm along a moist alley. A series of colorful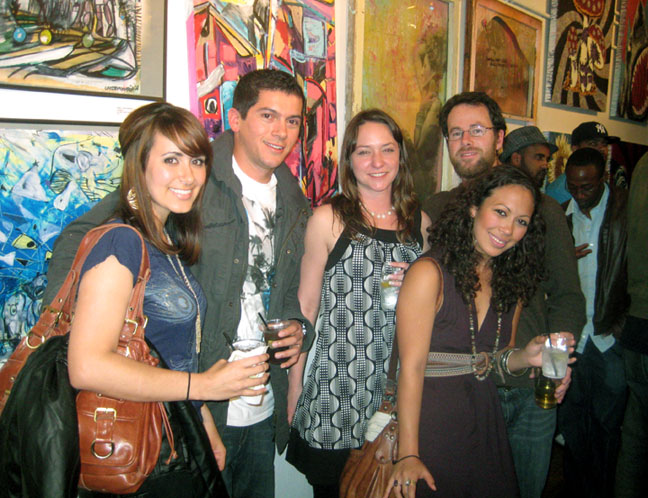 rectangle boxes point skyward as a clump of dark clouds tumble. Graffiti swirls along the side entrance and down the alley as the unmarked building begins to bounce. Without an address or sign, we are only lured by thumping beats and a large poster which reads, ArtNowSF presents Veni Vidi Vici: Art Show, Music, Fashion.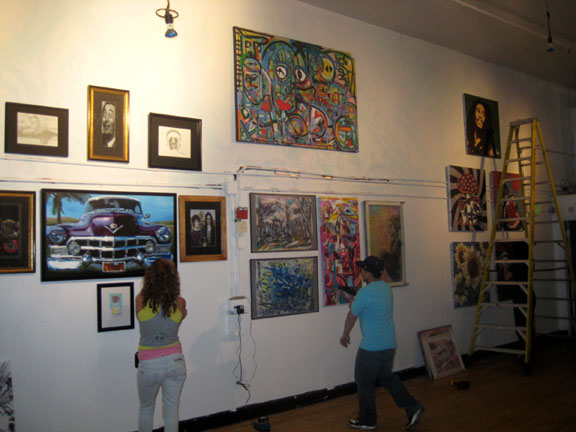 After checking the list, a thick security guard with yellow eyes draws back a curtain and grants us entrance to a brightly lit room. High heels scamper across the wood floor as mini skirts and slacks play tag. A long bar animates with thirsty taps and a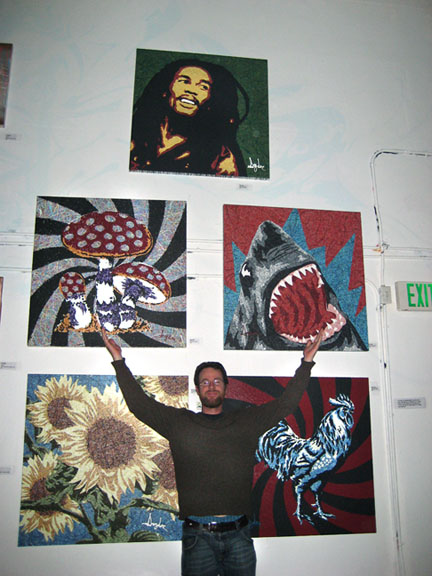 lonely woman makes a friend. Art stares off the surrounding walls as chats devolve to belches and hiccups. Photo realism winks and photo collages on glass sits snug within old window frames. Expressive brushstrokes radiate color and gangsta grills shine under resin. Cute characters giggle on wood and large gestural figures loom high above the bar. Typography embraces graffiti and drip art towers.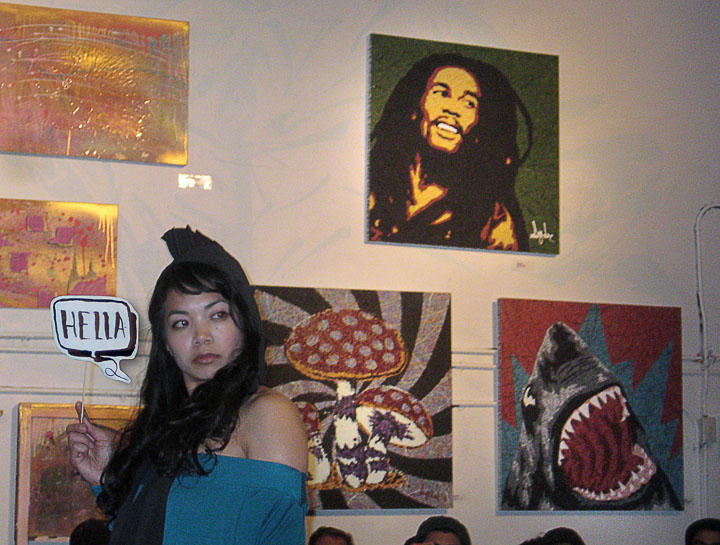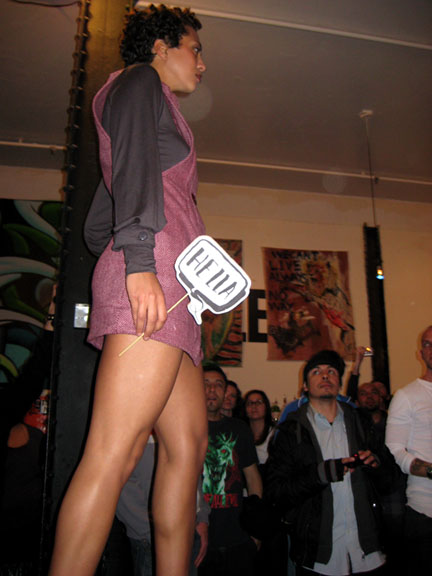 A long runway awakes to the stomp of spoken word, a series of local underground rappers and product pushing models. Energy engulfs the room as all attention focuses on the long raised strip that runs the middle of the room. The art, bright and scattered to the high ceilings, becomes a backdrop for the rapid fire photos of each model. Flashes explode as Hellagant fashion pushes curves and draws eyes. With each design and performer, a real sense of urban life in the city becomes apparent.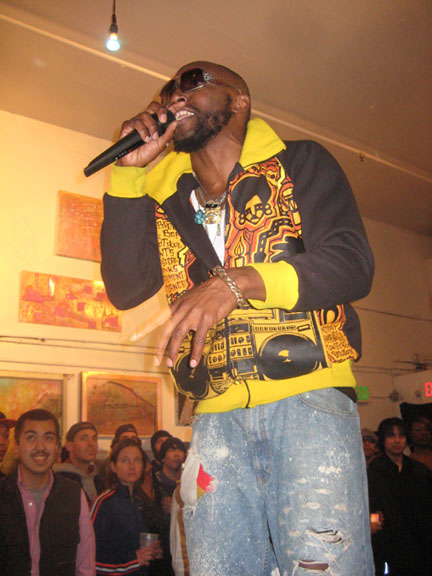 With the conclusion of the fashion show and a wall trembling applause, the focus again shifts. The lights dim to a hazy dull as ghostly images sway in the distance. Beats bounce off the dark walls as record yielding madmen mix beats and scratch vinyl. The art on exhibit is now on the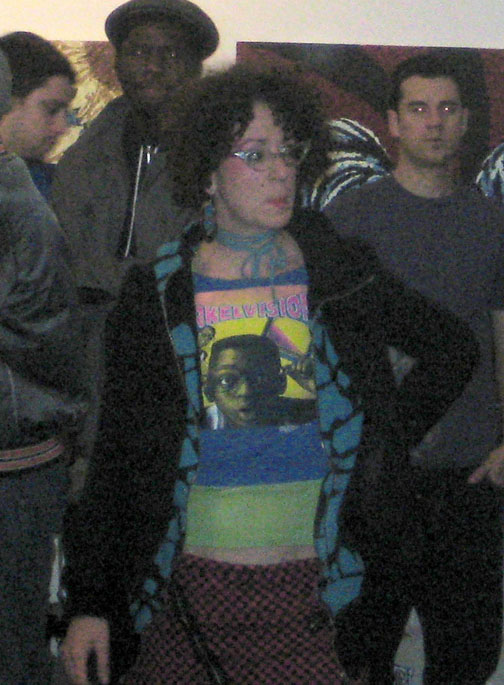 dance floor. Coordination pounds the wood floor and style bounces on the chest of each move. Circles form like a school dance scene in a cheesy movie. Sexual tension grows wild. Wordless small talked ignites an onslaught of grinds and gallops. Hours flip in the breezeless warm air and the sun's alarm buzzes.
Culture at its best converged in all aspects at Club 6. A true multimedia performance, fueled by creative expression, emerged through traditional art, fashion, music, poetry, dance and a smorgasbord of eye tantalizing style. Culture reigned strong with this powerful exhibition of connected minds, all  joined by the universal desire to share an idea.
Click HERE to see more San Francisco observations!
Click HERE to see SF fashion observations on streetfancy.com
coming soon… full coverage of all the Club 6 fashion on streetfancy.com