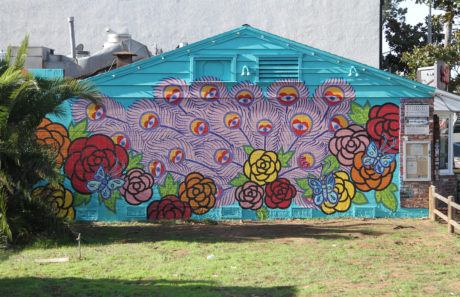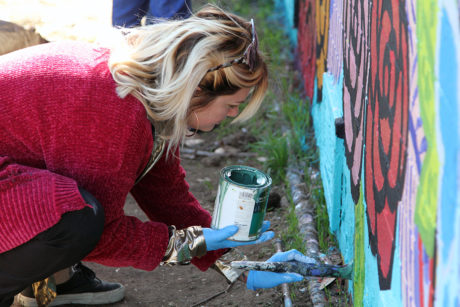 On Saturday, January 20, Vista artist, professional tattooer and City of Vista Arts Commissioner Sarah Spinks painted a mural titled Love and Confidence on the east facing wall of Señor Grubby's in the Carlsbad Village.
Spinks stays busy as a devoted community leader in Vista where she has her hands in all Vista public art, stays closely informed on local politics, organizes trash cleanups, curates art shows at her Backfence Society art clubhouse and rallys the community to tackle the emerging concerns of community responsibility at the local skateparks—she was actually balancing all this simultaneously while painting the Carlsbad Art Wall.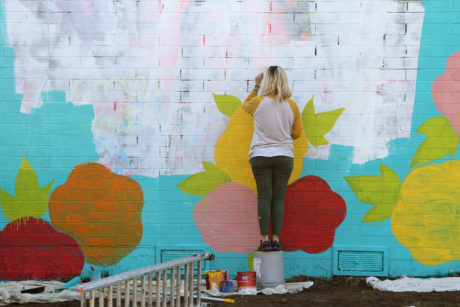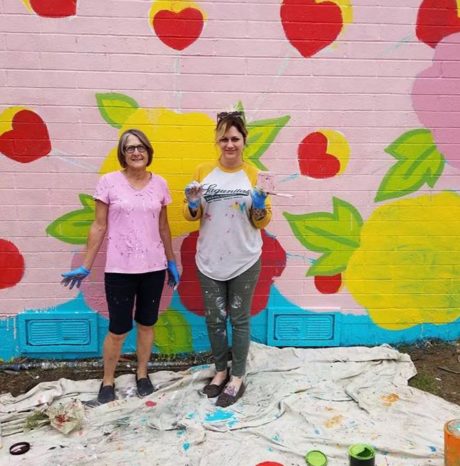 To help her along, Sarah invited friends and family to Carlsbad for a sunny weekend on the coast. Sarah, along with her parents, began painting the base of her brightly colored mural on Wednesday between tattoo appointments and her son's school schedule.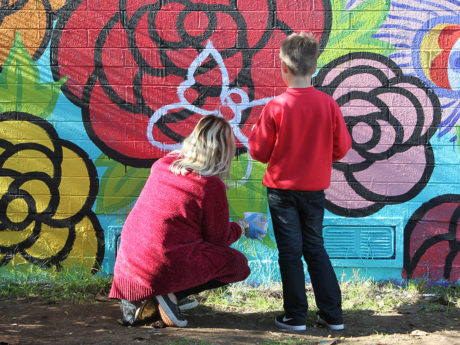 Large flowers soon emerged in a warm palette heavily outlined in black showcasing the aesthetics of her tattoo art. The outlines made each flower jump off the turquoise background, which was painted in a comforting matte finish.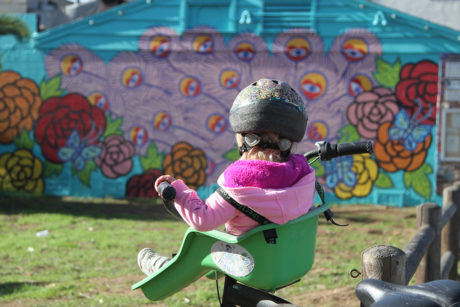 Spinks' mother focused on the trim of the wall filling every nook and cranny of the many panels with attention yet to be seen from any of the 15 previous CAW artists.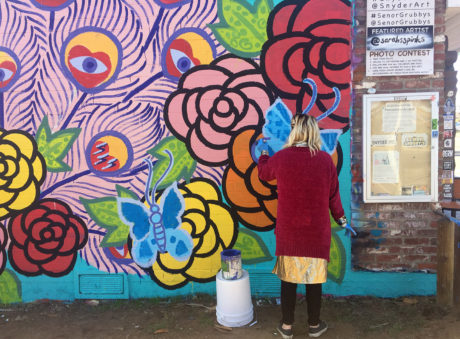 With day one coming to a close, and the center of the wall left for passersby to only guess at what might appear in the next days, Spinks and I spoke about the mutual love for each of our hometowns—the concerns and our aspirations.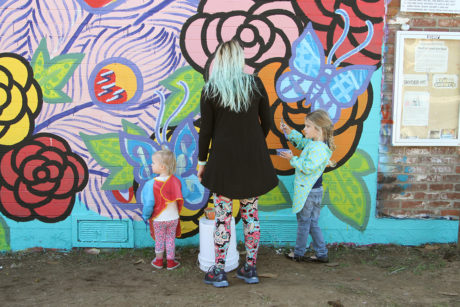 Like Carlsbad, Vista's art scene is strengthening thanks to the dedication of the community. In addition, both communities are experiencing increasing development and gentrification. Spinks does not necessarily consider the quickly changing urban landscape of her hometown negative as she sees it providing benefits to local business and property, as well as potentially fixing an increasing problem with trash, homelessness and urban blight.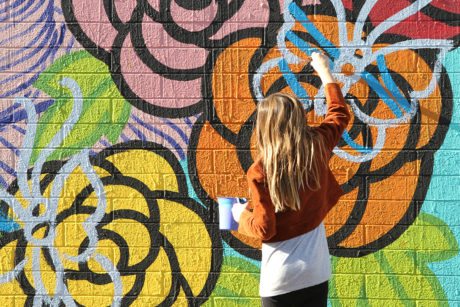 She shared her aspirations for her newly founded Backfence Society art clubhouse, a nonprofit art hub where one can participate in live figure painting, attend art shows and talk freely about Vista art and community.
With more days to come on the mural, Spinks and I paused our conversation to resume the following day.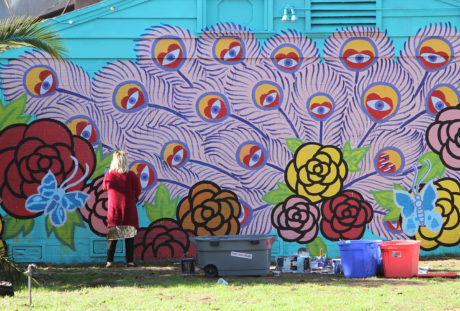 Over the next days, Spinks continued to build her bright and flat colors. Spinks shifted gears and introduced new shapes with outlines varying in colors departing from the thick black outlines of the previous day's flowers.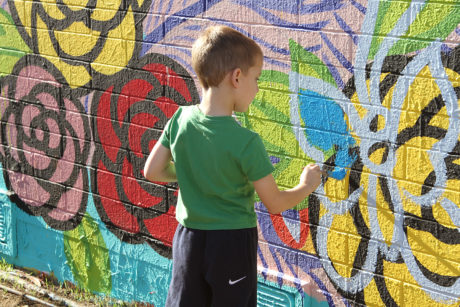 The CAW center took shape into a beautiful bouquet of feathers arranged in a welcoming selfie opportunity. Passersby immediately recognized the opportunity to pose within the fanned tail transforming themselves into a flirtatious peacock strutting down Carlsbad Village Drive.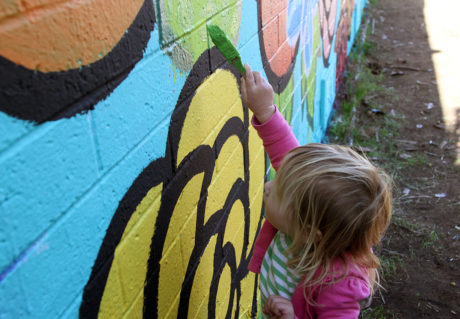 As a community member always looking to engage and invite neighbors into her projects, Spinks nodded with a smile—this was part of her plan all the time. Spinks organized some friends to bring their kids to the CAW to actively help paint.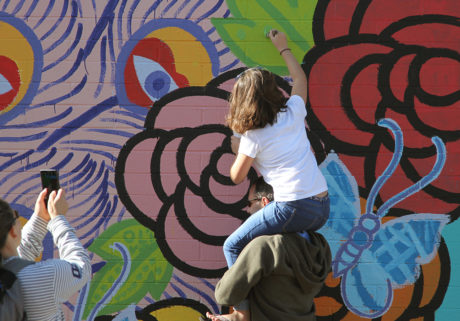 With a wide collection of paints and brushes carefully organized on a drop-cloth at the base of the wall, Spinks began orchestrating the community project. Kids of all ages helped paint whimsical butterflies, leaves and outlines, each with wide smiles and contagious laughter.
As the kids painted, Spinks bounced around dedicating time to both the painting and conversations with parents, onlookers and myself.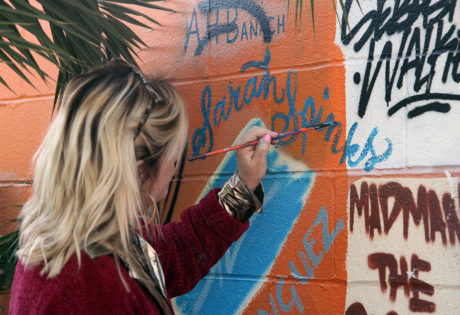 We continued our conversation, often comparing Carlsbad and Vista and discussing what makes each community unique, as well as the direction we see each community shifting toward. We talked about the role each City plays in public art. I learned of Spinks' aspirations to find more City funding for public art projects and local artists.
Vista's annual public art fund is capped at $40K. In addition, Vista does not offer a community arts grants program. For Carlsbad, it is not uncommon to award public art contracts well north of $100K, as well as awarding an additional $80K to local organizations via the annual City of Carlsbad Community Arts Grant program.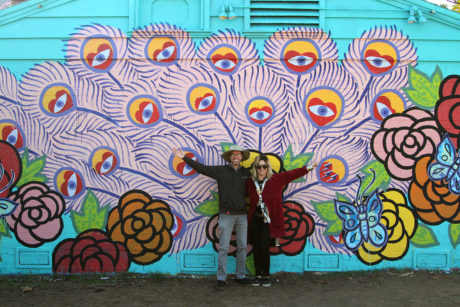 Although Spinks' is frustrated with some aspects the role of local government in her hometown, she does not let it deter, if anything, she feeds off it. She struts her colorful feathers and welcomes the weird wherever she goes—Carlsbad is lucky to have been a stop within her parade.
—
Click HERE for photos of past CAW murals
—
Started in March 2015, Carlsbad Village based artist Bryan Snyder will be bringing a street artists/muralist every 2 months to paint a mural on the east facing wall of Señor Grubby's in the Carlsbad Village.
Click HERE for photos of Snyder's street art workshop: August 8
The goal of the Carlsbad Art Wall is to serve as a conduit between aspiring artists and professional artists, to provide a platform to engage and educate the Carlsbad community in the creative act of large scale public painting and to introduce a variety of new art and creative processes to the Carlsbad community.

Directions to the Carlsbad Art Wall located at Señor Grubby's