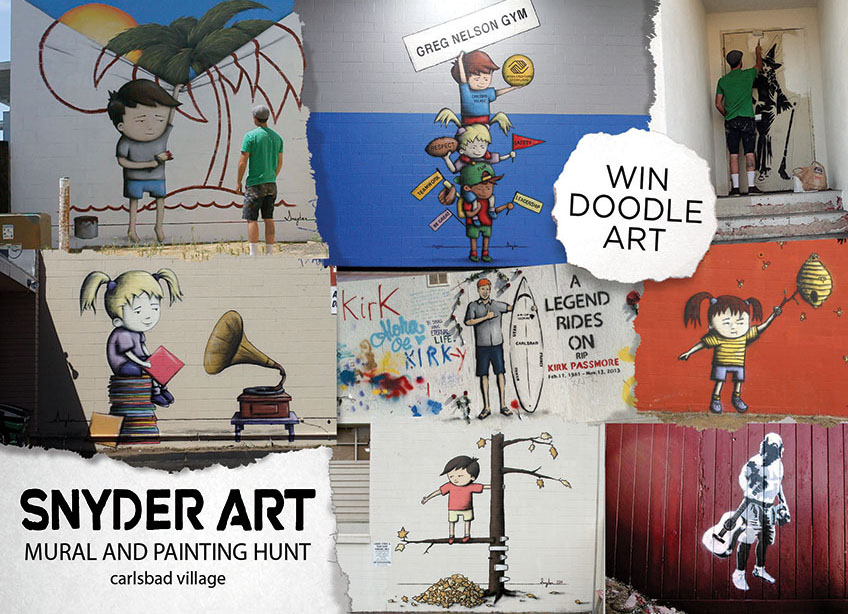 WHAT: Carlsbad's Biggest Art Hunt
WHEN: Begins Saturday August 9
WHERE: Info available at Carlsbad Village Yoga and Fitness (map)
NEW VIDEO: I Want You by SNYDER
On Saturday, August 9 street artist Bryan Snyder will present a Carlsbad village wide painting and mural art hunt. In addition to the hunt, Snyder will be painting a new Doodle mural titled Doodle's Beach Day in the parking lot of Carlsbad Village Yoga and Fitness located at 2801 Roosevelt St. in the Carlsbad Village.
Snyder's art hunt will include 9 murals painted on the outside of local businesses and an additional 8 paintings hung inside. The art hunt runs from Aug. 9-17.
An official art hunt info card and map with all hunt details will be available on Saturday at Carlsbad Village Yoga and Fitness during Snyder mural creation. Snyder also welcomes the public to experience the his mural painting process. The info card and map will also be distributed during the Aug. 10 Carlsbad Art in the Village.
Participants will use the map to find each of the 17 hidden art pieces. Once found, participants will take a photo and upload it to Instagram. The first 10 participants to find and upload each of the 17 hidden artworks will receive an 11in. x 14in. Doodle print. Participants will choose their favorite print out of 8 options. Prints will also be available for purchase via Snyder's website.

Financed and organized entirely by Snyder Art.
Thanks for the support of the Danish Bakery and Carlsbad Village Yoga and Fitness.

Click the below links for more Carlsbad murals by Snyder:
Introducing Jingle
A Welcoming Fall
Don't Pole Around in Other People's Business
Doodle's Imagination
Organized Chaos