Would you like coverage of your band's local North County gigs? Would you like easily web linked multimedia presentation for Facebook, Myspace, Twitter and website/blogs? Carlsbadcrawl.com and Snyder Art and Design is now available to cover bands at local venues.
Coverage package includes:

Gig conclusion and multimedia package presented on carlsbadcrawl.com. Additional promotion consulting available.
Contact theartist@snyderartdesign.com for additional info!
Hello Trouble: Carlsbad Street Faire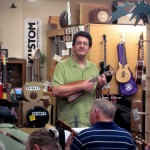 Jumpin' Fim Uke: Giacoletti Music