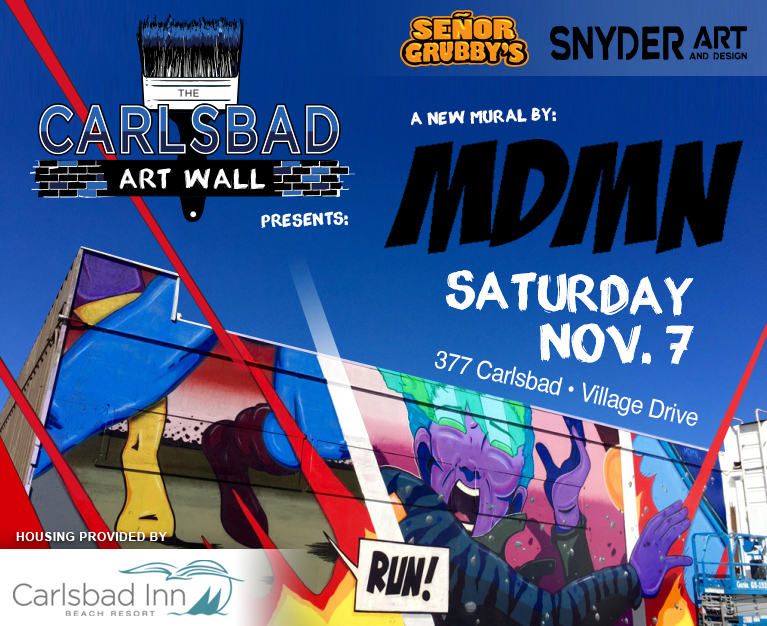 Carlsbad Art Wall mural project continues with 5th professional Los Angeles street artist MDMN
WHAT: MDMN paint ths Carlsbad Art Wall
WHEN: Saturday, Nov. 7, 2015 – all day
WHERE: Señor Grubby's (map)
The Carlsbad Art Wall (CAW) project continues with its 5th mural to be painted by Los Angeles street artist MDMN on Saturday Nov. 7 (all day).
The east facing wall of Señor Grubby's located at 377 Carlsbad Village Dr. has become an urban canvas for each visiting Los Angeles street artist rotating every 2 months curated by Carlsbad based artist Bryan Snyder. Snyder hand picks each artist and is very excited to introduce you to MDMN.
MDMN is an LA-based street artist with an educational background in animation and graphic design, MDMN has gone from gritty posters on the streets to doing exceptionally clean acrylic and aerosol work in a matter of just a few years. Inspiration from a 90s childhood filled with bright action figures, creepy extra-terrestrial villains, and armies of robots can be seen on every piece of his work.
In September, MDMN had his first solo show EVER, PARA, at gallery 38 in Los Angeles featuring over 10 large scale original paintings. He has recently released handmade original action figures and a 25 minute mini documentary.
MDMN has painted numerous murals around LA, Miami, Chicago, San Diego, New York, Denver, Phoenix, and the newest work in Honolulu. Focusing on contributing to neighborhoods nationwide (and eventually worldwide) with large animated looks into his world of illustrations of super heroes, his goal is to inspire and encourage creativity from entire communities. Sometimes people lose imagination and dreams through the disheveled paths heaved at us, but through MDMNs artwork you can at least lose yourself for a while in a beaming fantasy world of luminescence and adventure.
—
Housing sponsorship generously provided by:

—
Stay connected with MDMN:
@madmanart

—
Past Carlsbad Art Wall artists:
Devin Liston
Annie Preece
Morley
bumblebeelovesyou