click on all images to enlarge!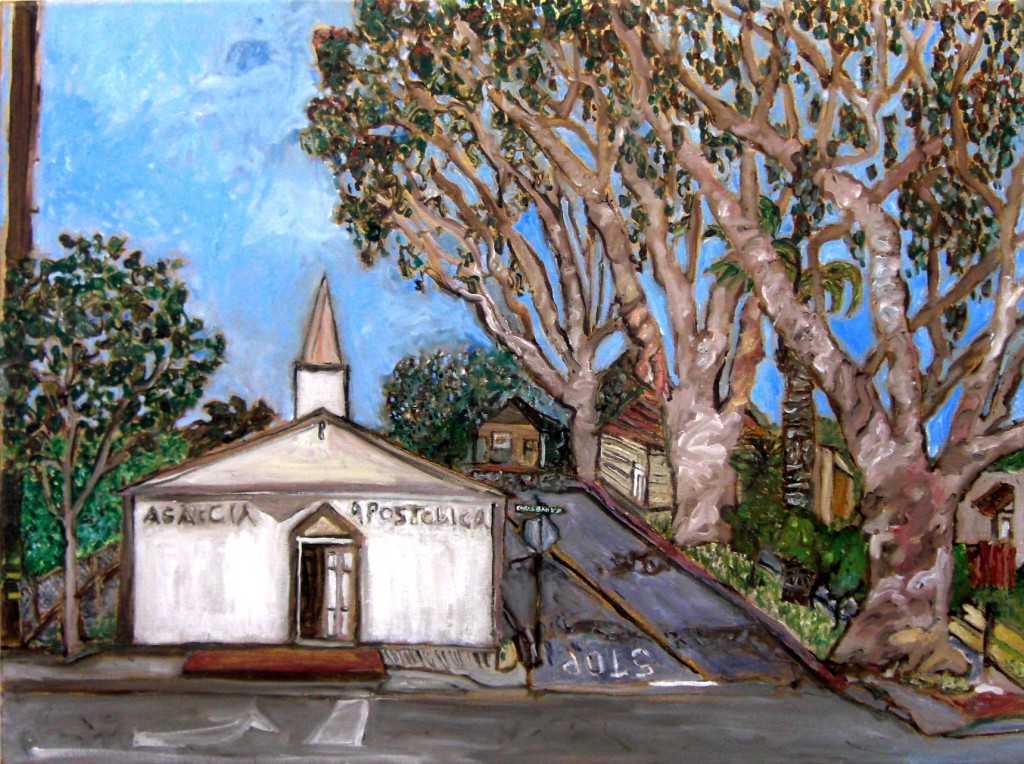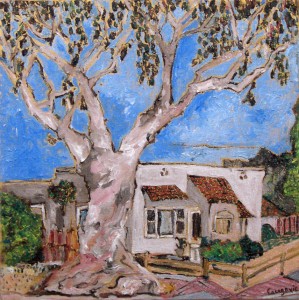 Where were you born and where have you lived in the past?
I have traveled and lived in many places outside of my birth state of Ohio. My family lived in the 1950's in a resort community called Geneva on the Lake near Cleveland and that is where I was born. As a child we moved to Southern California, and the city of Ontario is where I spent my formative years. So I have made a great big circle back to my roots. The circle has included living in Alaska, Seattle, Ventura, Los Angeles, Long Beach, San Francisco, San Jose, Oakland, New Orleans, Cundy's Harbor Maine and currently the lovely seaside village of Carlsbad, Ca.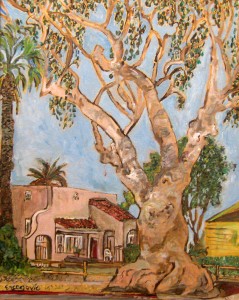 What early memories do you have of being exposed to art? Who sparked the desire in you to paint?
My first strong connection to art was my brother who had wonderful early talent in drawing and painting and ultimately was given a scholarship to the University of Santa Barbara in their art Department. He decided to hitch-hike to Alaska instead and basically never came back to California. The Ercegovic clan has always had a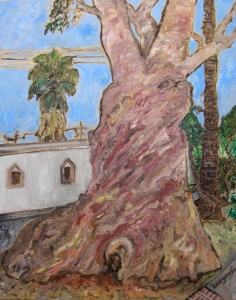 wandering off the track streak. I was hooked after seeing what my brother could do with a brush. Then I took a class in Art History and was shown a photograph of a beautiful salt cellars and asked who created the work of art and is it art? I found out it was an Italian silversmith named Benito Cellini and began to believe that art could be everything.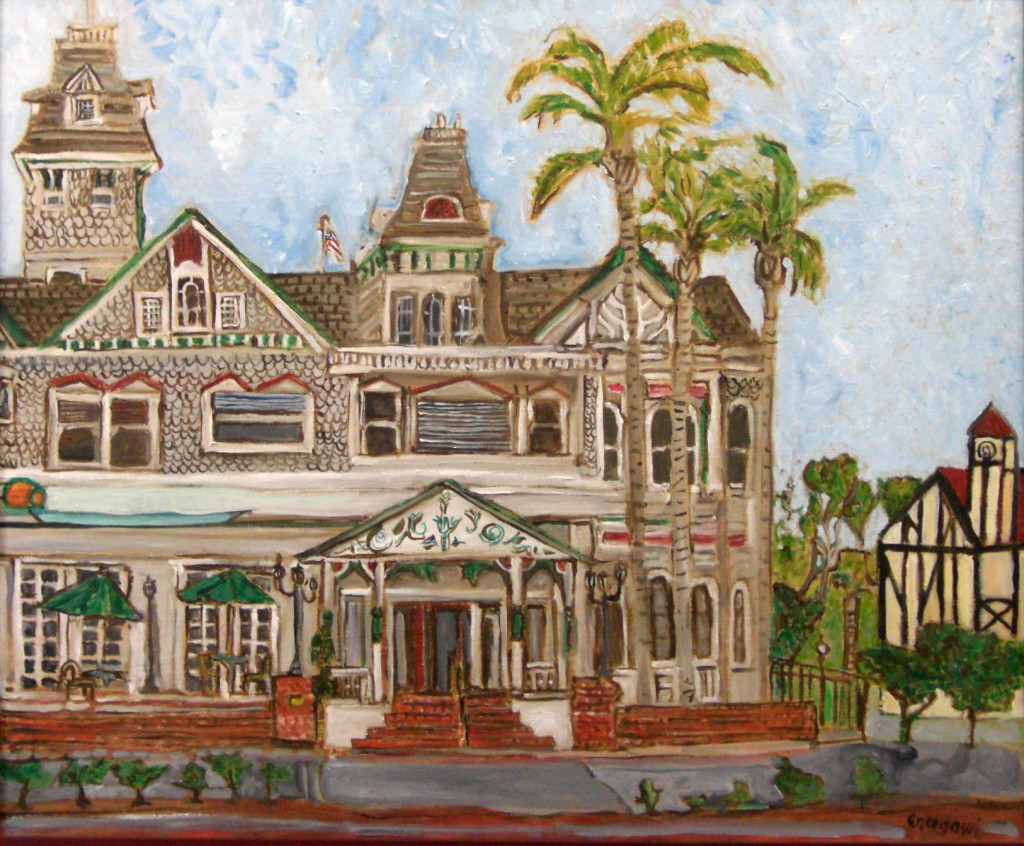 What artists influence your past and current work?
So from high school to the present, I have visited the major museums of the world. I believe collections of art have influenced my work more than individuals. I
started looking at artwork in Los Angeles. We have such a great museum system in our area. Next came New York and the Metropolitan and the Cloisters. Washington D.C. came next and the whole mall and especially the National Portrait Gallery. These museums all have the greats…. Sargent, Stuart, Francis, Warhol, Thiebo, impressionists, expressionists, abstract painters, realistic paintings. When I went to Europe all of Italy seemed like a museum and the Renaissance painters came to life… Da Vinci- the list is seemingly endless of the influences on my work. The Louvre has the largest collection of work in Europe and my mind swirls with all the artists who are on those walls. I have had the fortune to visit the Prado, the Picasso, Gaudi, the Getty, the lists goes on. My favorite is in Amsterdam. My greatest influence is Vincent Van Gogh. I can't get enough of his bold, thick and rich style of painting.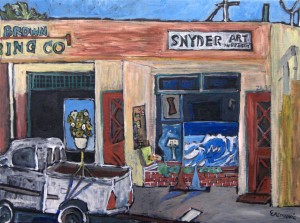 What medium do you work in? Can you describe the process which you go through when creating a new painting?
I have always loved the way oil paint flows on any surface you apply it to. I love any color that is in a tube of oil. Since I have little formal training, I use all colors with abandon. I play no favorites color wise. To start painting, I have no method but the pure enjoyment of looking and loving what I'm looking at. In all the other areas of my life there has to be a system, but in painting, it is the lack of method that is refreshing.
Do you prefer painting in a studio or in the outdoors?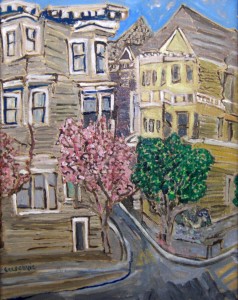 To paint outside or inside, that is the question. I have no preference. It just depends on the subject. Landscapes are better in my opinion outdoors . Portraits seem to require a more confined and controlled environment. Both have their place and comforts. I paint outside at times due to circumstances. For example, when we moved here we were, and still are, living in a hotel and it was difficult to paint in a small hotel room. I'm a messy painter and didn't want to worry about where the paint splatter might go.
What reactions do you get from the public when plein air painting? How has the Carlsbad public reacted compared to other communities?
One of the pleasures of painting outdoors is the involvement of the public. So many people comment about the work. The public just strolling by feels free to say something. I'm in their space so "they" the people on the street chime in….mostly the feeling is of encouragement. Some people have wanted to buy or commission a piece. One time a manager of a restaurant in San Clemente leaned out of his car window asked asked me to bring the painting to his business. It has been friendly and fun talking to the people of Carlsbad in this manner. I think the public here is well educated in the arts and they have a good eye for art.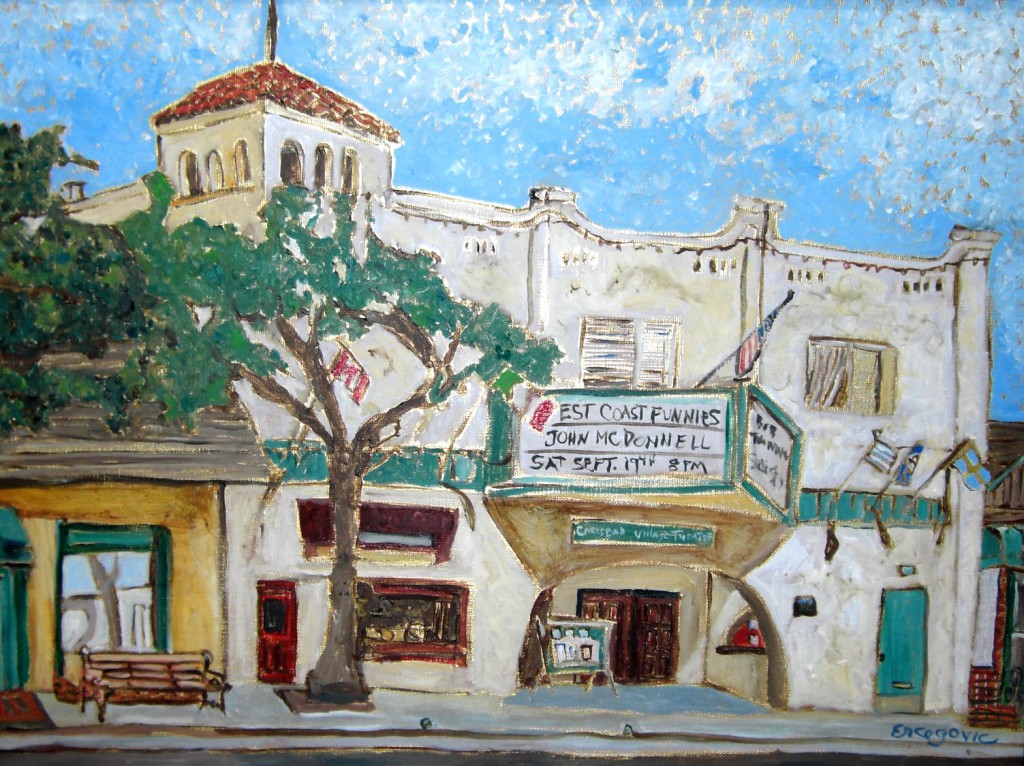 You spent time painting the French Quarter in New Orleans, Describe that experience. What drew you to that location and those sites?
I do still have my primary residence in New Orleans….What drew me to the place was the history, the architecture and the music. The romance and mystery of that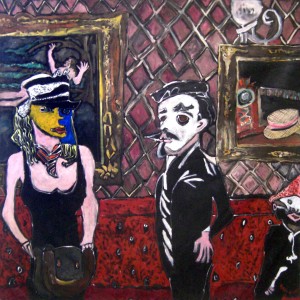 city on the Mississippi is unmistakable. The mythos is even stronger now that the city survived the destruction of Hurricane Katrina and it will rise again after the Gulf oil spill disaster. New Orleans is a phoenix like no other.
Painting there is an especially sweet business filled with curious tourists and the clanking of mule shoes on narrow streets as they move carts through the French Quarter. Tour guides tell tall tales and some truths along with lively legends. The place has power and poverty and allows the imagination to travel in many ways. New Orleans is a dream and is a provocative scene to paint.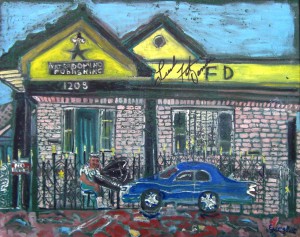 What other communities have you captured through your paintings?
I loved painting in San Francisco. It is another city of powerful visuals. In both towns I enjoyed painting the streetcars. Urban scenes are delightful in so many ways. You can combine buildings, motion and people. Both are things that pull the painter in. Another great place to paint is Greece. I stayed on a hillside that was blown apart by a volcano. The view to the water was truly spectacular. The Greek architecture is softer and sweeter than most. Hawaii was a location where the light brought out the most amazing colors. The landscape is so vibrant; my paintings were intense.
What do you hope to accomplish with your paintings? Are they a visual documentation of your surroundings? Do they tell a story?
I think the best paintings are narrative. When the they tell more than the exact story of what the eye see, but give the feeling and the idea of the place. That is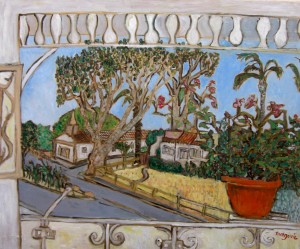 wonderful artwork! Some of my paintings go to that place beyond mere documentation and are in the world of good storytelling… art can me magical!
When did you first begin painting in Carlsbad? What brought you here? What has been your favorite Carlsbad subject to paint?
When I first came to Carlsbad, I was struck by the sheer number of strong twisted trees left in the village. One tree in particular was amazing and I painted it over and over again. It is a Eucalyptus on Carlsbad Village Drive. It is over a hundred years old . It has a huge trunk and great colors in its bark. Many passers told me the story that the trees were planted by the railroad owners to be used as railroad ties. They grew too twisted so they were not cut down. But a historian of the city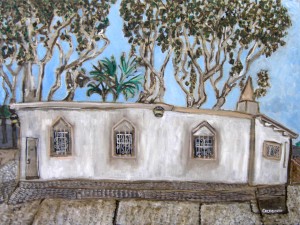 had another story that that largest trees were places as corner stones making off street intersections.
Gary and I came to Carlsbad because of his job. He works at Camp Pendelton in an effort to clean up the environment there. It has been dumped on my many dangerous substances.
Are there any Carlsbad locations you want to paint, but haven't yet?
Camp Pendelton is an undeveloped place I'd like to paint in, but probably can not get a permit and I don't want to dodge artillery. In the city, I would like to paint some shops on the 101. Carlsbad is charming and I have liked painting my spin on it.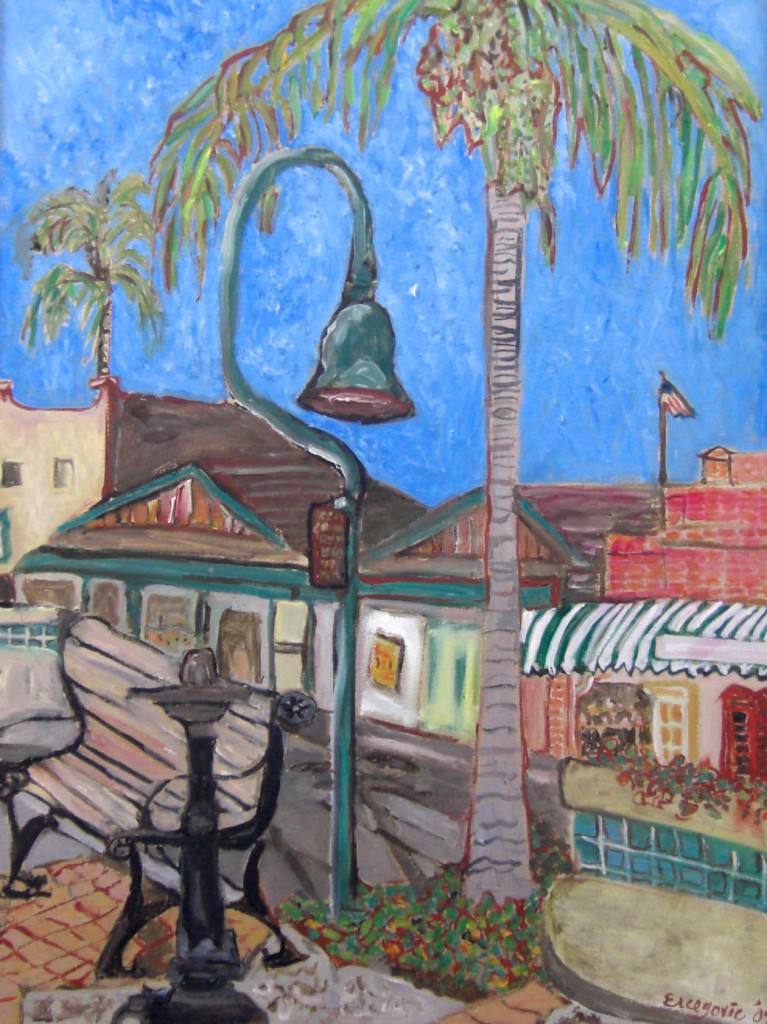 Do you reach a point when you are ready to paint a new community? If so, how do you know it is time to move on?
I do have traveling feet and can paint anywhere. I think there are locations where your powers are most concentrated. Carlsbad is one of those places. I'm not ready to leave.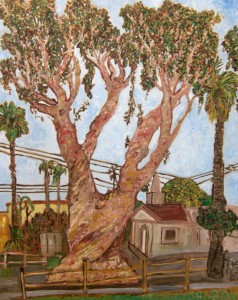 How did you learn to paint? Were you trained or self taught?
I am self taught. The first painter I knew as I mentioned was my brother. I have gravitated towards painting communities ever since. Right now, I am so lucky to be painting at the Foundry. It is a group of studios of all local artists. I say to everyone come on in and look around to see what good things are happening to the arts in this area.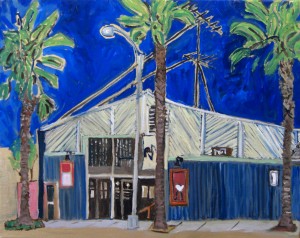 How has Carlsbad influenced your work?
The peacefulness and serenity of the village lends itself to contemplation. Being in a town that moves slowly allows us to focus, to look carefully at life. We all get to look around and breathe more deeply. The scenery also allows us to be a in a calm space. The waves are endlessly soothing. Being here has been a plus.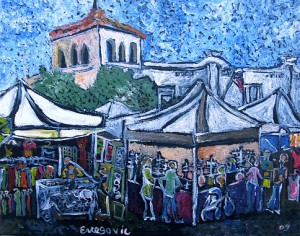 As one of the first resident artists at the New Village Arts Foundry, Describe your experience working there and how has it evolved in its first year?
The Foundry was and is a grand find. It is a community where artists and patrons get to meet and greet. You can be there alone; it is open to artist 24-7, or you can find a crowd. It is a supportive place and it also has the theatre connection bringing in a crowd of other artists and their followers. It is fertile ground for any artist. It is like the flower fields- an attraction.
What do you feel Carlsbad can give to an artist and to an emerging artistic culture?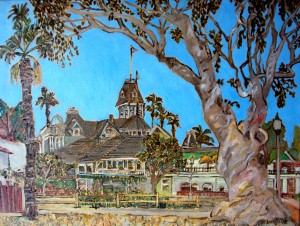 The city is starting to recognize the value of the arts. The arts brings structure, a place to paint, potential commissions and venues for the artists of the area to display their work. The Thursdays on the Coast Art walk has been a force bringing this all together. Carlsbad is an art destination in the making. It has been an honor to be part of the start of the movement.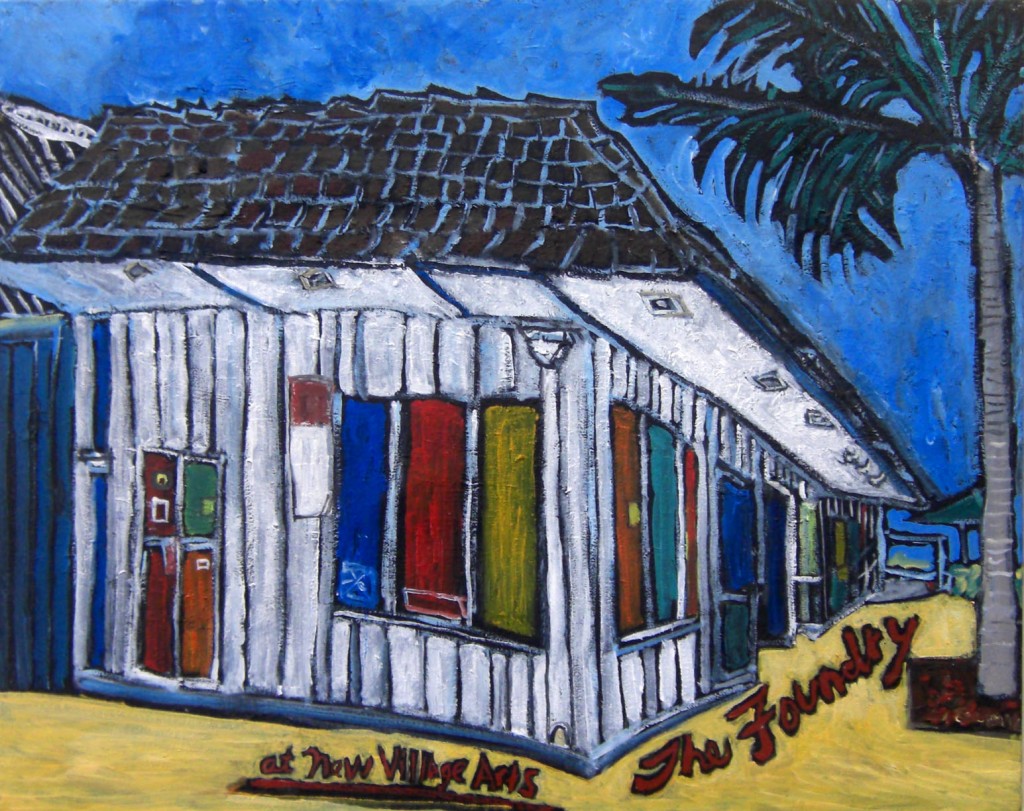 Visit www.marshaercegovic.biz for purchasing information!
Click HERE to leave a comment!