"Words" performed by Matt Gose at Snyder Art and Design
How old are you? Where do you live and where did you grow up? How long have you been playing music?
I'm 19. I was born and raised in Carlsbad. I've been playing music since about 14 or 15. Started when I was a sophomore in High School
What early memories do you have of being exposed to music? Did someone have to push you in that direction or was it a naturally developed passion?
When I was young both my parents would occasionally listen to the oldies station, which I really dug even at a young age. Really I discovered music on my own, though I guess I have to thank my parents for funding my record collection early on. Honestly, I couldn't really say what pushed me into music. It was a blessing really. I guess you could say it was God that got me into music.
What is your instrument of choice? What others do you play and how did you learn them?
I studied the kazoo at Berkley School of Music for about two years after High school, until I was victimized in an unfortunate accident which left me unable to purse my lips for an extended period of time. It was at that point I began playing guitar. I haven't put the thing down ever since. I can also play bass, blues harp, mouth organ and harmonica. Occasionally I've been known to fiddle around on the drums (and drum around on the fiddle).I'm learning piano as well, which from a musical perspective is kind of backwards, but you know how these things go… I was sort of inspired by my brother. He started on the guitar and I wanted to do the opposite of him. I started o bass and moved from there. Now he plays bass and I play guitar. Funny how that goes. We play together now mostly. Its hard cause of school and all, but we try to get together as much as possible.
What musicians and types of music inspire you? Who are your influences? What musicians are your favorites?
Most of the music I like was very unpopular a very long time ago. How's that for alternative? My first love was classic rock. My first CD was the Beatles "1." They are and forever will be my favorite group. I dig Dylan as well. I'd say the music I play and create is most directly influenced by them. I also dig '70s punk, dust bowl-era folk, blues, some jazz, '90s grunge and "alternative." Mostly, I'd say what I write are songs influenced by culture, scenes, even more so than other music. I can write a song more easily based on an idea transpired through a painting or a book or a conversation sometimes than even by hearing other songs. Also I should mention I'm a thief, the greatest there is, though I doubt you'll ever recognize the sources from which I steal most often.  Were I a rapper they'd call it sampling.
If you had to play a set of all covers, which songs, or musicians, would you pick?
If I had to play a set of all covers I'd change my name to Juke. Honestly, I don't know.  I'd probably do a lot of Beatles, Dylan, Neil Young, Robert Johnson, Son House. The thing is I tend not to know many songs that people would want to hear. In other words, I'm terrible about doing the requests. I know the songs I know and I learn the songs I like best and which I feel best complement my style… of which I really have none.
When you write songs, what is the process? Where do your ideas come from and how do they evolve into a song?
Bloody Dagger! You're pulling out the bug guns here aren't you? It's like this… chords, melody, lyrics. Right? Unless I write lyrics first. But that could lead to spending hours finding a melody and chords to match, and often ends with a re-write of the lyrics anyway. Sometimes I start with a melody then match the chords and put words in. Sometimes, it all just comes simultaneously. And as far as expressing ideas or feelings… well that usually comes a long time after the song is already written, which usually leads to scrapping the whole thing and starting over to fit the new idea. It varies, really. Sometimes I can spend hours and hours just trying to come up with one line. Other times I can write an album's worth of songs in an hour. When in doubt, I always go back to my roots; that usually puts me on the right track. Again, inspiration is a blessing. Its cliché I know but songs really have a funny way of tracking you down sometimes. God really just hands you the ingredients and lets you figure out how to put them all together.
How do you feel about playing live oppose to recording? Do you feed off a crowd or do nerves play a factor?
Recording and performing are two different animals, each with their own up sides and down sides. I only dig performing when its songs that I really dig and they sound the way they ought to sound. Certainly the biggest aspect of performing is the crowd. If they aren't into it, then I usually get into a funk, and not a good funk. Recording is cool because you get to create something. I like all types of recording, whether its minimalist, live, one-take kina stuff, or hefty multi-tracking. I dig experimentation and doing whatever it takes to make the song sound as it is supposed to.
Other than music, what interests do you have? Do they ever overlap your song writing?
I like art. Drawing, photography. I'm also very involved with my church. I feel that God and my friends and family at church have really played a key role in helping me develop as a musician and have really given me many catalysts to express, develop and share this gift I've been given. I like to read to sometimes. Right now I'm in school which can really put a stopper in music, but I try not to let school get too overwhelming to the point where I can't play at all. There was a time when all I did was pay guitar. Five hours a day at least. Now I've got bigger responsibilities, not just school but also friends, relationships. I still love music and it's probably the strongest and longest lasting relationship I've been in thus far, I just now have to prioritize.
How did you get involved with Snyder Art 2009 and what do you have in store for the night?
Snyder works next door to my Grandparents' plumbing shop. He was in one day and we struck up a conversation. That's it. What do I have in store for the night? Well, you'll just have to show up to find out.
Does Carlsbad ever influence your song writing? How?
Carlsbad does influence me. In many ways. The people, the ocean (duh), the ever shrinking natural aspects. The contradictions, the aesthetic beauty and the underlying pain. The every changing and overly developed landscape. I love this town, but there is a lot I don't like as well. Just like any town I suppose. It's both the positive and negative that inspires me I'd say.
How do you perceive Carlsbad as an artistic community? Are their changes/additions which you feel could make it more of a nurturing environment for artists?
Carlsbad was an art town. Now, I don't know. Sure there are artists, musicians, painters, actors, poets. But if you look up Carlsbad online they call it a resort town, not an art town. We certainly aren't defined by our creative side, which is sad really. Because you go to places live Vinaka, the Pit, the multitude of street fairs we have and you see that Carlsbad certainly has a massive art culture. It's just instead of being exposed for our neighbors to see, it sits just below the surface. I think artists could make a bigger effort to exhibit their creativity. I mean, geez, we've got a board walk. Where are the painters, where are the musicians, the street performers, the circus acts? Roger the Juggler can't lead the army all by himself! Snyder calls them "closet artists!" I like that term. I think that's what we are. A closet artist town.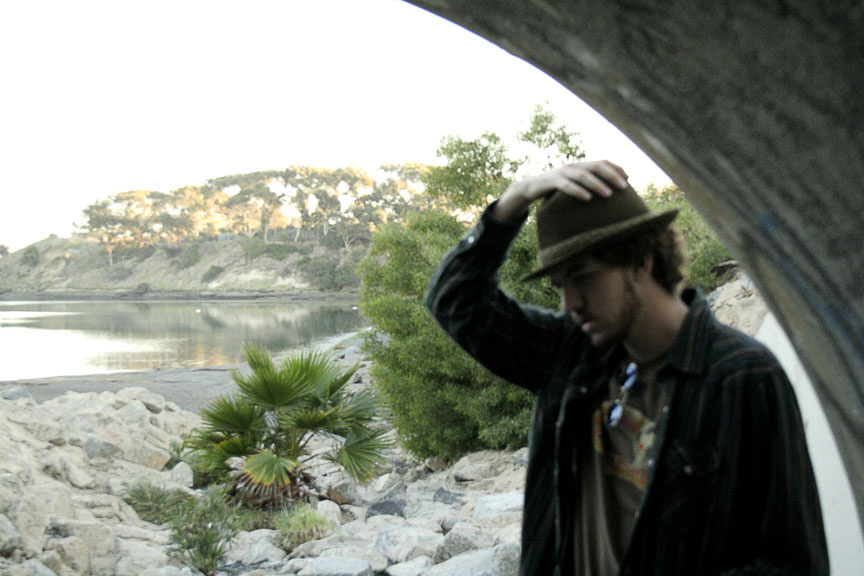 photo by Alex Montoya
To see Matt Gose LIVE, check out Snyder Art 2009: Aug.29th!