click on all photos to enlarge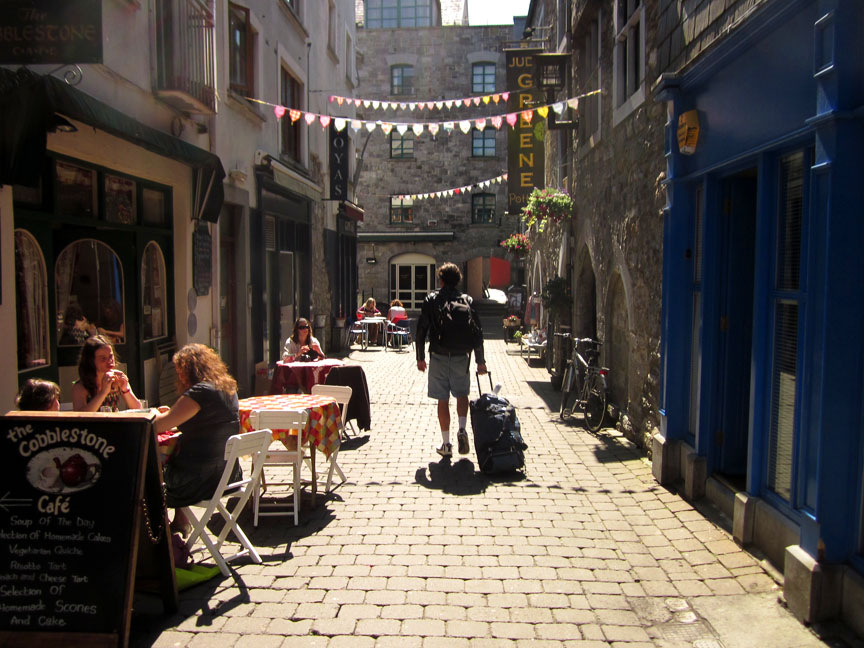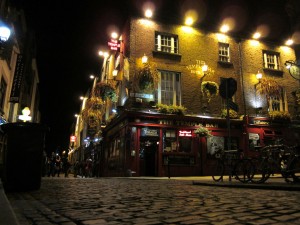 Red faced pub crawlers stumbled over bubbly hiccups and high heels became swallowed amongst the rounded cobblestones of the Temple Bar. Shards of glass sparkled in the moonlight like an animated sky over a dark desert and the Galway Girl tumbled from every pub. Moist clouds wandered yonder and the sun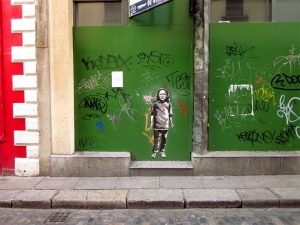 prepared for an abnormally long Irish shift. Pints clanked over thick accents and a coin was tossed into a hat as often as a credit card was slid across a bar. With a camera, a sketchpad and the willing to dig deep, Ireland's rich street culture, skilled story telling and prideful traditions became my muse.
The sun donated rays to the soggy streets of the Temple Bar district of Dublin. Each morning began with a cleansing. Debauchery and mischief was scrubbed from the streets as an attempt to ignore the oncoming migraine. Pressure washers sprayed and street sweepers swept as local hooligans and visiting tourists shuffled through their pockets for clues of the night before.
Tea and toast battled a bubbling belly of Guinness and the day's first melodies bounced off a guitar and down the narrow streets of Dublin.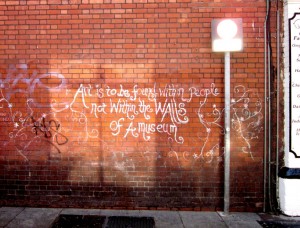 Pubs opened their doors as broad chested security guards found their posts. Clash of the ash pulsated from wide mounted screens and stickers were peeled off steadfast street poles. An elderly woman blessed with smooth accordion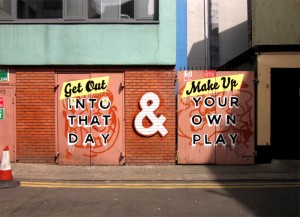 melodies and prayers and a hyperactive American rang bells from his toes while punching his guitar. Street rooted bands plugged into mysterious electrical outlets and "The Dubliner" loved life with every bottle of wine and scavenged cigarette. Local hoodlums punched tourists in the faces and long braided gypsies begged for coin.  Neon green vested police bounced along the cobblestones full of jokes and laughter while a citation was as rare as an unfinished pint.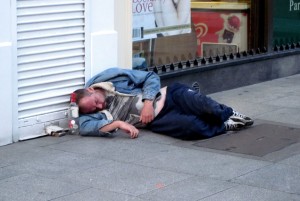 The Dubliner's face got blotchier with each passing hour. His leather jacket scuffed against the stone wall he leaned against and his fist pounded the pub window to the beat of his favorite Irish songs. The sun dove into a Shepard's Pie and the moon provoked mischief like a puppeteer yanks strings. Bottles were tossed into the night sky and pint seeking tourists bounced along the cobblestone streets like a ping pong bouncing atop a feeble table.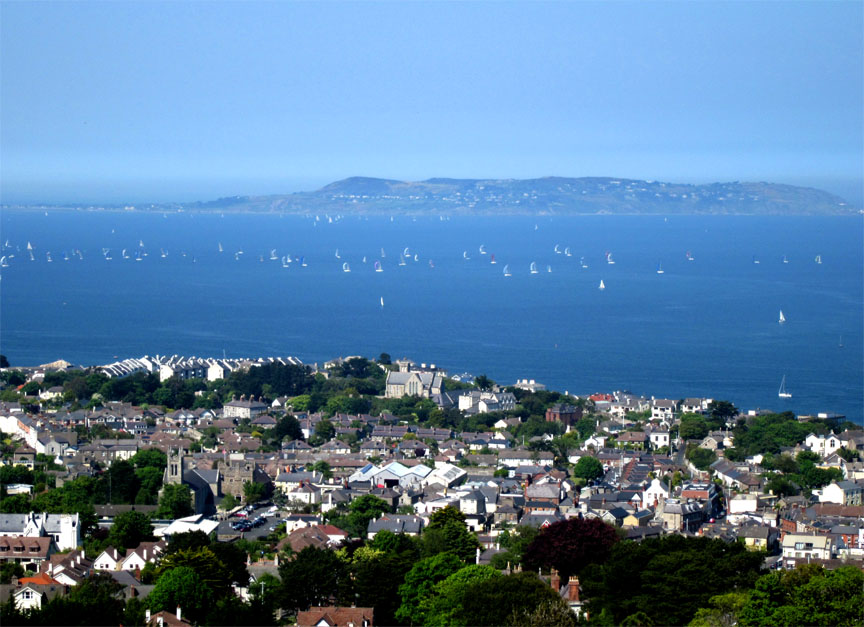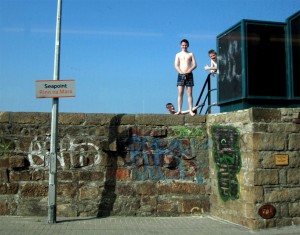 A temporary escape from the pubs is necessary during any stay in the Temple Bar. A train swollen with sweaty beach goers skidded to a stop and wave of sweaty gasps exhaled into the air of the posh beach community of Dalkey. Bono and Van Morrison residences towered as lush green paths guided along the rocky coastline. A green rail and uneven stone stairs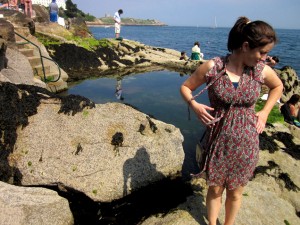 lead to a nude community of sunbathers and swimmers. Glaring eyes skinned off layers of clothing like a fasting onion and the freezing water chattered teeth. A jolly old man splashed water like a baby's first bath and laughter became contagious.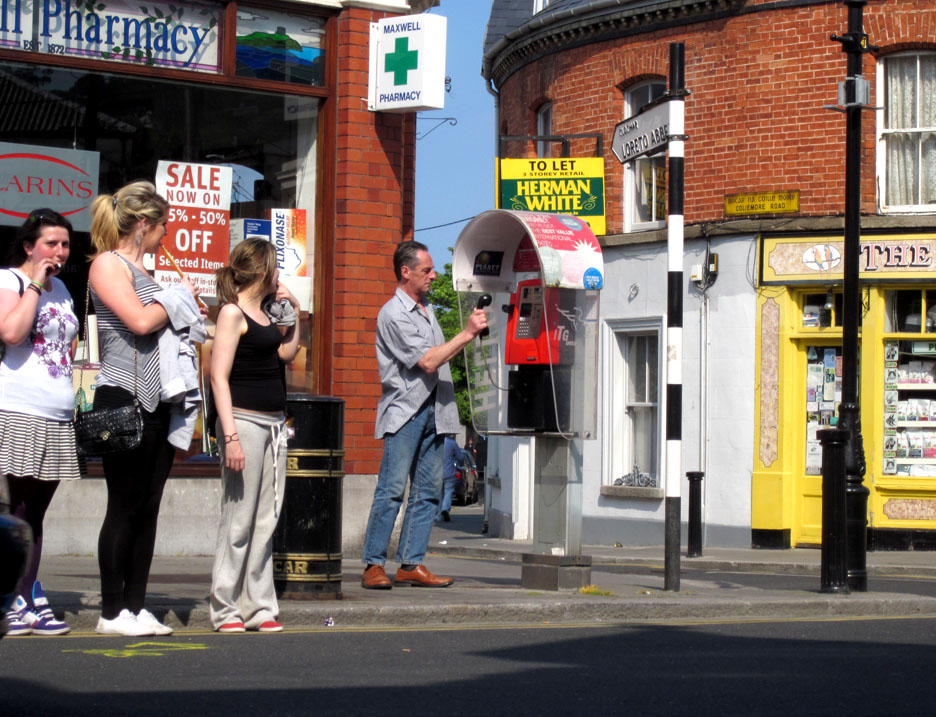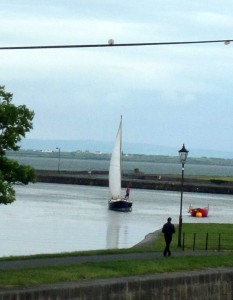 With a pounding headache, a punch in the face and pockets full of stories, the artsy culture of Galway called. Record temperatures greeted as we stepped off the bus and into the abnormally warm breeze. Local college students read stories and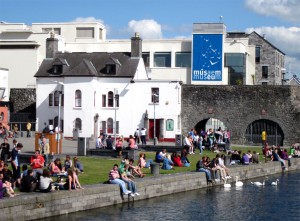 smoked cigarettes in parks and street musicians busked as tourists bounced along pubs, restaurants and stores.
The Spanish Arch of Galway, located on the banks of the river Corrib, invited with long grass strips and the fast and powerful river flow. Swans fought the strong current and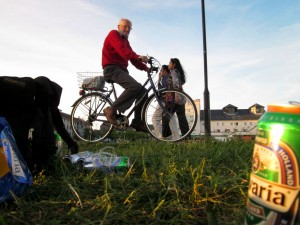 local students rambled lessons while sipping out of brown bags. Long asphalt paths guide tours along the glassy bay and sailboats drifted to the beat of splashing ripples. A view from the Herons Rest sent chills and a glass of bubbly calmed nerves.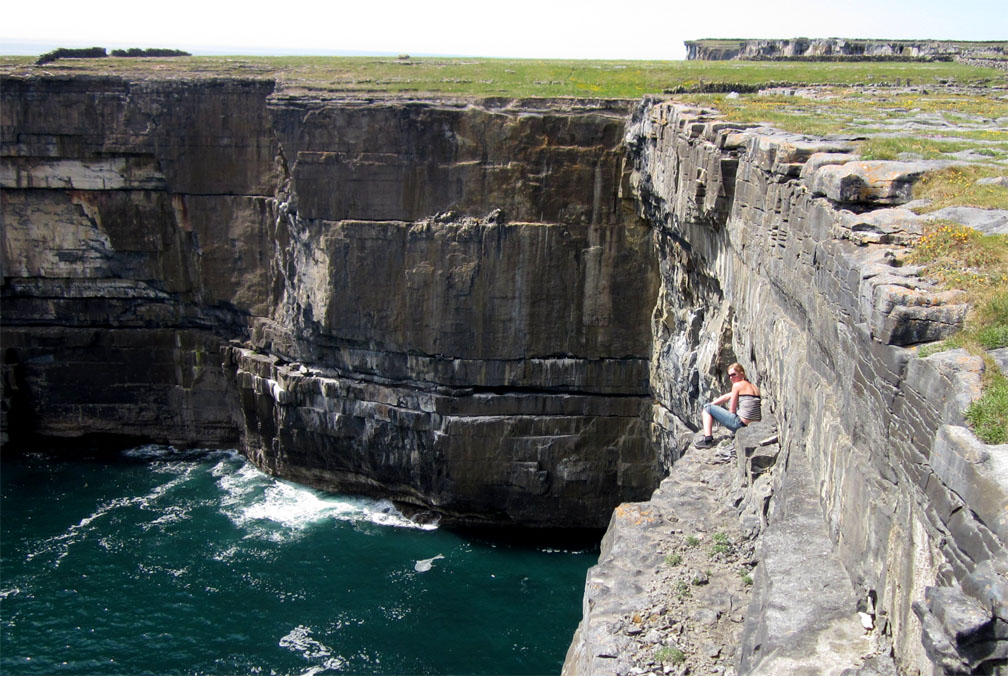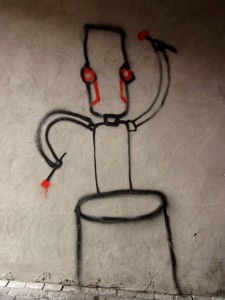 Inis Mor of the Aran Islands awaited with rolling green hills and a labyrinth of stone masonry. Aqua blue water rolled onto white sandy beaches juxtaposed near towering 300 ft. cliffs of limestone. The edge of the world stopped abruptly at these cliffs where a day can easily pass in the sea scented breeze. A variety of ruins scatters the island including the great stone fortress of Dun Aonghasa, a prehistoric stone fort perched spectacularly on a sheet 300 ft. cliff that falls into the Atlantic Ocean.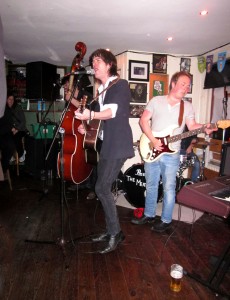 After a handful of days hiking over ruins and along the amazing cliffs of the Araan Islands, we headed back to the mainland. Kilkenny was next on the agenda where a sleepy village awaited, scattered with street doodles and under the saggy sky of an approaching downpour. The MeatMen shook the foundation of a local pub and the crowd demanded a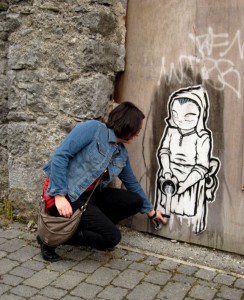 long series of encores. Mini adventures lured to a Buckfast birthday party, a hurling match in Cork and many soggy maunders. It was time to continue back to Dublin once moss began growing on the top of my sneakers.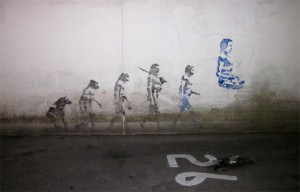 Dublin greeted again with sunny skies and shenanigans. The remaining days consisted of laughter and the ever classic stories from the sisters. Relaxing days atop Dublin rooftops, strolls along the river and a final day for the record books.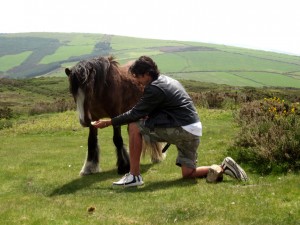 The day began early and in the company of high voltage rock and roll. The grill waved the scent of black pudding through-out the house and a restocked cabinet poured conversations and developed a plan to hike Sugar Loaf mountain, a modest climb with a panoramic view of the coast and distant Dublin. A pregnant horse and cronies greeted at the base of Sugar Loaf and an all natural display of confidence danced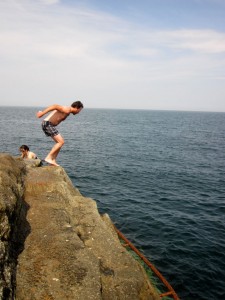 upon the peak. A leather jacket and sneaker decent for the memory books concluded around mid day. The distant coastline was our next stop where we leaped off cliffs into freezing water, listened to local kids heckle and watched a dreaded man in a wetsuit swan dive off undiscovered perches. Salty and sunburned, we were dropped off at the O2 arena where our last night in Ireland was to be enjoyed with Willie Nelson.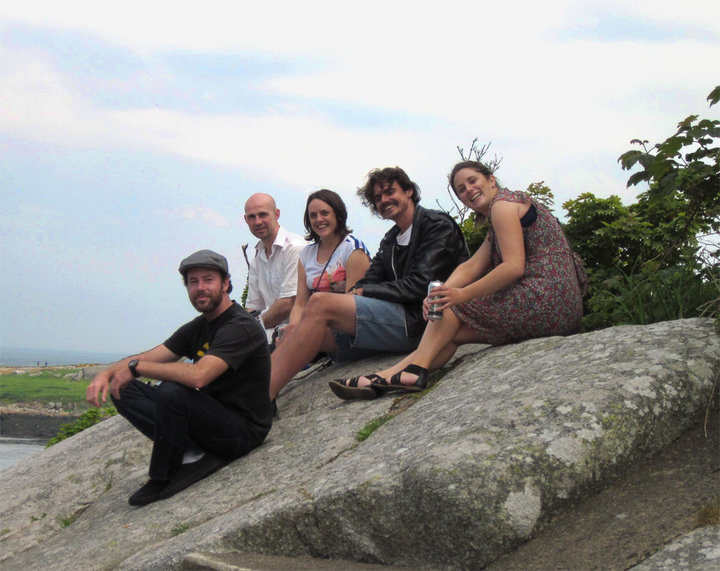 This trip was a spontaneous decision, one which stemmed from a simple ceremony and evolved into an opportunity to create amazing friendships, explore a new land and to reinstall a sense of inspiration. The culture laden streets of Dublin, the death defying cliffs of the Aran Islands and Ireland's cold water coastline are ideal for any content seeking artist. With the adventure tucked in my pocket and another chapter logged, I continue to write, and share, my story.

"I wanted real adventures to happen to myself. But real adventures do not happen to people who remain at home- they must be sought abroad."
– James Joyce from The Dubliners pg.11
Click HERE to leave a comment!
Click HERE Observations of an Artist: The Dude!