Snyder Art, Carlsbadcrawl.com and E Street Cafe in Encinitas are teaming up for Snyder's 2nd 'Hide and Go Seek Doodle' urban art hunt.
A giant 8ft. Doodle has been painted which also serves as a canvas for 100+ hanging Doodle reproductions on wood with clues. Pick up your clues and begin your urban exploration in the beautiful downtown Encinitas streets.
HOW IT WORKS
• 8 original hand painted Doodles hide in the Encinitas Downtown streets
• 100 clues hang on an 8ft Doodle at the E Street Cafe
• 15 clues per Doodle categorized beside the cream and sugar counter
• Purchase your $10 Doodle reproduction and begin your search
• There are no limit on the amount of desired Doodle reproduction purchases
PROJECT GOALS
• To encourage urban exploration through art
• To encourage the development of an artistic culture in a specific community
• To promote local business
• To encourage the development of new friendships and conversation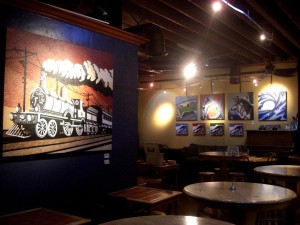 E Street Cafe (map)
128 West E Street
Encinitas, CA 92024
(760) 230-2038
Bryan Snyder will be available for project discussion and questions Sunday at the E Street Cafe.
"creating culture one idea at a time."