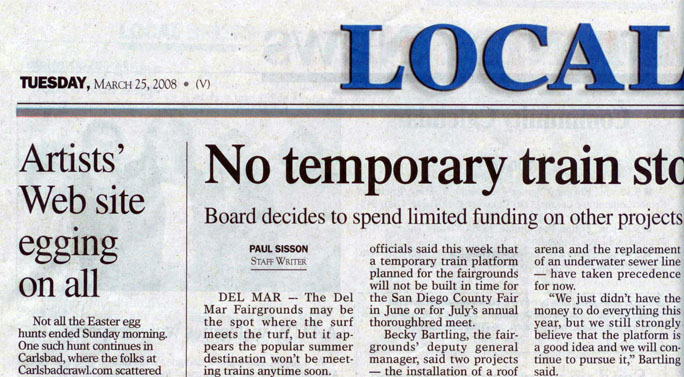 Click HERE to read the rest of the story

Everyone here at Carlsbadcrawl would like to thank all the participants in our inaugural Plant an Egg project. There has been an extremely positive response from both the artists and the egg hunters. Locals and tourists both explored the streets finding eggs and possibly other treasures they had once overlooked.
This project not only brought our community together, but also left an everlasting impression on those visiting. Check out the below comment from a kind vacationing family!
"We were on vacation this past weekend and had risen early for breakfast. After eating, we decided to take a walk. Our 8 year old son stated that he had seen an egg in both the median of the road and on the steps at the Ocean House restaurant. We hadn't heard of the project, but were delighted that he found the first two eggs. He and our daughter searched the streets as we continued to stroll along and found the others. They collected 8 eggs in all and found more, but wanted to save the fun for others, so they left the additional found eggs in place. Both children plan on keeping the eggs as a reminder of a delightful vacation. The children have kept the stickers as well. We have checked daily to read the postings and to view the painting. This was an excellent surprise and a great event for the village. We are from Huntington Beach California.
If you would like to send the shirts, we would be very proud to wear them. You have a fantastic, creative community!"
Thanks Swansons from us at Carlsbadcrawl.
UPDATE: Many eggs have been found but not yet logged. We can only hope that they are safe and waiting to be logged rather than lost or tossed away. We will have to wait and see. Thanks for all who logged promptly. As of right now, there are still 4 eggs in the streets waiting to be found.
CLUES: One sits tired, hungry and haggard while his last cigarette burns waiting for spare change as ocean soaked kids impatiently wait to purchase hot dogs and Slurpees. Another strums songs of a long life while fellow long-haired hoodlums spend their last dollars on new tunes. Another stands tall like a fluffy cloud and looks down towards a window full of dusty paperbacks and a hairy legged critter squats a vacant balcony of a once happening surf shack.
Click HERE to see the unraveling puzzle!
Click HERE for a map of each found egg!
Click HERE to log a found egg!
COMING SOON: Pictures of each decorated egg.