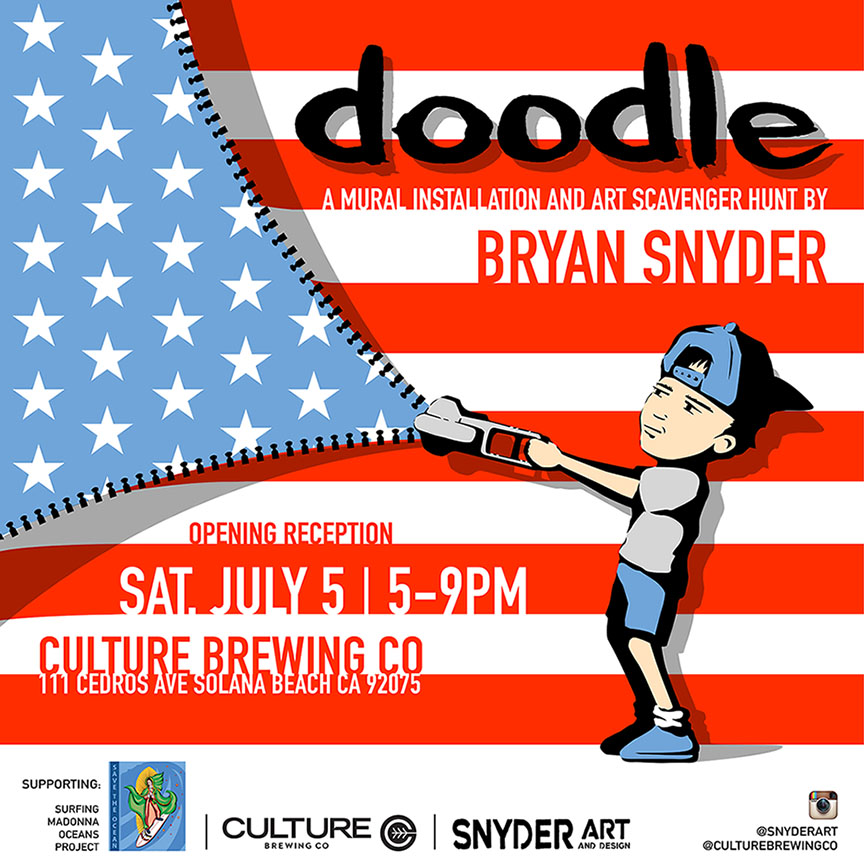 WHAT: Doodle art show and scavenger hunt by Bryan Snyder
WHERE: Culture Brewery Co in Solana Beach (map)
WHEN: Saturday, July 5 | 5-9pm
Doodle Art Show and Scavenger Hunt by Bryan Snyder
On Saturday, July 5, Carlsbad based artist and creator of the hugely popular character Doodle, will unveil his newest art installation and scavenger hunt at Culture Brewing Co located on South Cedros Avenue in Solana Beach.
Snyder's installation will include 20+ original Doodle paintings created on his signature cardboard medium, a large July 4th themed mural stretching the entire length of the brewery and a scavenger hunt sending attendees into the local Solana Beach Streets in search for Doodle artwork.

Limited edition Doodle wood blocks available at the opening reception will include clues to a total of 7 Doodle Golden Tickets hidden up and down Cedros Ave.
Instructions will inform golden ticket finders to:
1. take a photo of their found ticket, upload it to Instagram
2. tag @snyderart
3. Return to Culture Brewing Co to claim their prize artwork.
Wood block clues will be available for purchase. Clues will be available for the month of July, or while supplies last.
A portion of a night's sales at Culture Brewery Co will be donated to the Surfing Madonna Oceans Project.
Click HERE to view the facebook event!