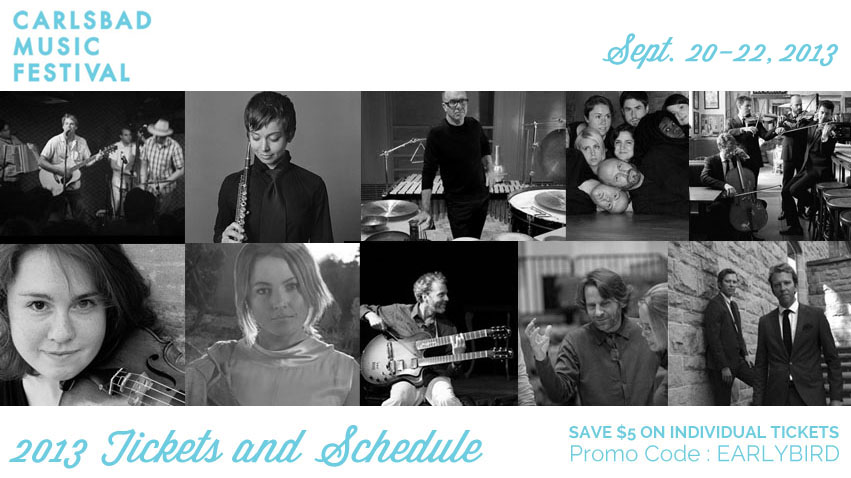 The Carlsbad Music Festival celebrates its 10th anniversary of "adventurous music by the beach" with its biggest and most exciting Festival to date on Friday-Sunday, September 20-22, 2013. This year's Festival will feature over 50 performances in three days with concerts in Magee Park and Carlsbad Village Theater on Saturday and Sunday, as well as the Village Music Walk on Friday, all curated by Festival Founder and Director, composer Matt McBane. All concerts will take place in the charming seaside Village of Carlsbad in walking distance of the beach, hotels, restaurants and the Coaster train station.
Roomful of Teeth • Steven Schick • Claire Chase • Calder Quartet • Sean and Sarah Watkins • Peter Sprague with Gilbert Castellanos • Caroline Shaw • Steven Mackey • Mattson 2 • Trouble in the Wind • Musicians from the Center for World Music • Matt McBane • Alexander Elliott Miller • Ben Phelps • Ben Power • Christopher Cerrone • DJ Lexicon Devil • ensemble et cetera • Eric Byers • Freako Suave • Giri Nata Children's Balinese Gamelan • Ian Rosenbaum • Jennifer Bewerse • Josephine McGrath • Low Frequency Ensemble • MandoBasso • Monte Weber • Nathan Hubbard/Passengers • Nice World • the Paragraphs • Peter Wanjira Kenyan Percussion • The Red Fox Tails • Scott Nielsen • Scott Paulson • Scott Worthington • Sean Conway • Second Cousins • Son de San Diego • Tiki Two • What's Next? Ensemble • Zimbeat
Individual concert tickets are now available.
Use the PROMO CODE : "EARLYBIRD" to save $5 on each ticket!
Click HERE to purchase tickets!
Click HERE to download the schedule!