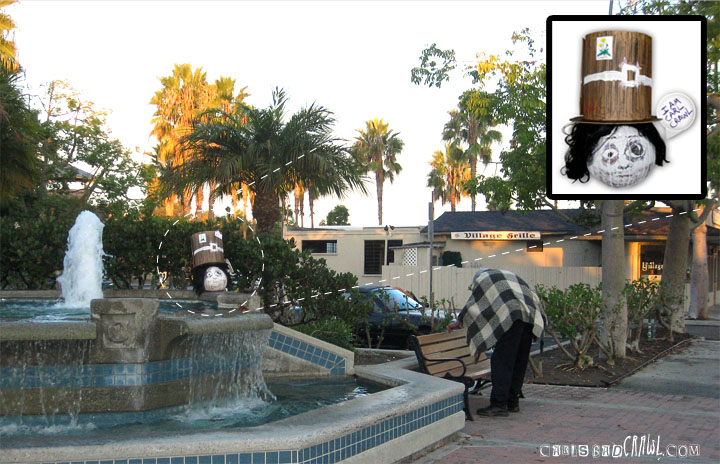 We would like to thank all the participants in carlsbadcrawl's most recent public art project, Plant a Pumpkin. Like other projects, our goal was to unite our community through art and creativity. In project: Plant a Pumpkin, we chose to involve local pubs, cafes, stores, eateries and community centers as a way to promote the village's local businesses. Each pumpkin was strategically placed with the intent to bring village wanderers and shoppers to establishments that we choose to support.
Some Chosen Establishments:
•Ohana Creations – 550 Grand Ave
Tropical Arrangements-designed daily with Aloha. Look for the giant floral mural!
•Mystical Dragon – 570 Grand Ave.
Fairies, dragons and wizards… the perfect randomly creative gift!
•New Village Arts Theatre – 2787 B State St
"…power and passion of the artist"…You can't go wrong with that!!!


•Carlsbad Village Theatre – 2822 State St
History and entertainment with a neighboring magic shop!
•Village Natural Health – 2972 State St
A healthy body = A healthy mind
•Giacoletti Music – 505 Carlsbad Village Dr
Private lessons as well as North County's largest sheet music selection
•Newbry Gallery – 3095 State St
Carlsbad has its creative hotspots, this is one of them!
•By the Sea Productions 2956 Roosevelt St


Memories last forever, but film doesn't…archive it!!!
•Super Donut – 590 Grand Ave
Choose a stool or creep the drive thru…smiles either way!
•Ivanffy Uhler Gallery – 565 Grand Ave
White walls are boring… drop in and see the village's newest addition!
•Spin Records – 370 Grand Ave
"Support local businesses! or there won't be anything but Wal-Marts"
•Farenheit 451 Books – 323 Carlsbad Village Dr
Need some inspiration, check out their collection!
•Boys and Girls Club – 3115 Rooesevelt
Indoor soccer, swim, foosball… we grew up there too!


•Beach  City Smoothie – 594 Carlsbad Village Dr
A great way to start those slow mornings, plus free WiFi
•Cafe Elysa – 3076 Carlsbad Blvd
Great outside atmosphere. Ideal for people watching!
•Yoshino Sushi and Frozen Yogurt – 2913 State St
Discounted rolls after 4pm. Cash only!!! or a friendly IOU

click HERE to view the UPDATED MAP!
click HERE to see all the PUMPKIN PHOTOS!
Thanks again for your participation in PROJECT: Plant a Pumpkin. Stay tuned for future projects and remember…keep those eyes open!