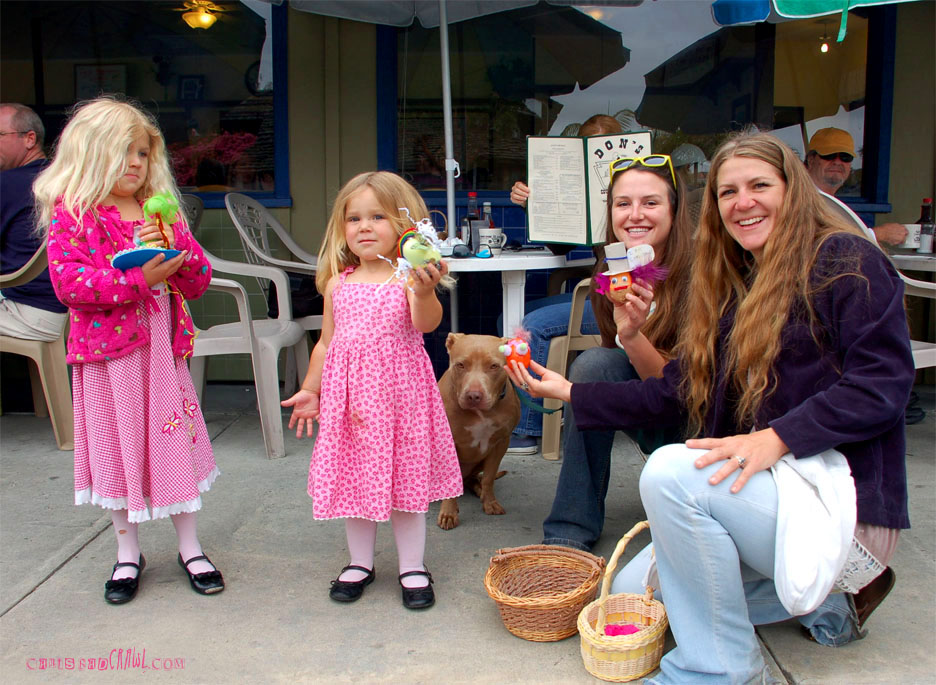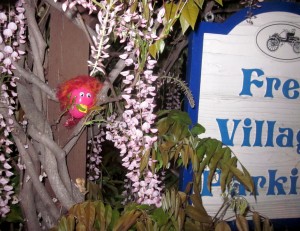 Easter Sunday 2011 began early for many who excitedly set out in search for brightly crafted Easter Eggs hidden in the streets of the Carlsbad Village. Kids, parents and couples were seen peeking though bushes and in tree stumps for their favorite crafted egg.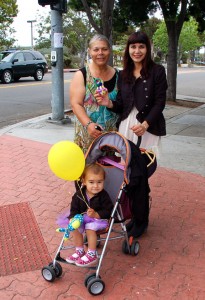 This 4th annual PROJECT: Plant an Egg 2011 is a community celebration of art and the Carlsbad Village beginning with a community gathering and egg crafting party hosted this year at Crafticality. 100 eggs were brightly crafted, given a log number and placed in the streets for the Easter Sunday morning hunt.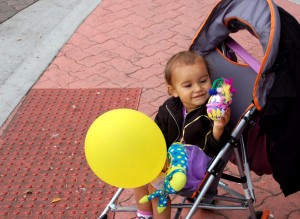 Each egg contained a limited edition sticker, a log number and a puzzle piece, as well as a friendly note that asked finders to "please be kind and leave some behind" for later searchers. The finders were encouraged to expose a piece of a puzzle by visiting carlsbadcrawl.com.
Oceanside residents Bianca Lara and son David Hethorn spent the majority of their Easter searching high and low for 1 of the additional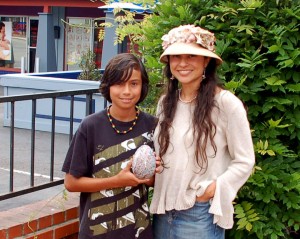 "Bonus Eggs" painted in Snyder's signature drip technique. "Davey was crazed to find a painted one. He missed one in the ivy sign by one minute," Lara explained. Luckily her son David found the last bonus egg. "Thanks for the best hunt we've had in years!"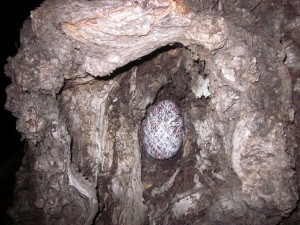 The lucky 5 bonus egg finders will get a chance to identify a "village sound" by visiting an undisclosed website and listening the the audio recording. The first to identify the sound wins a limited edition hand drawn and painted Doodle illustration by Snyder.
Carlsbadcrawl.com immediately began filling up with comments of searchers logging their eggs. Some participants have been visiting the village specifically for this event since the inaugural carlsbadcrawl.com hunt in 2008 and others stumbled upon the hunt for the first time. "We decided to go on a walk this morning not knowing about this little hunt," Brooke Lopez wrote in a comment. "We had a blast trying to find the eggs and hope to do this again!"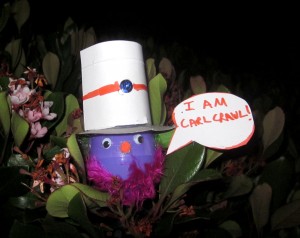 Carlsbad locals and visitors were invited to participate in both the project kick off craft party and the Easter morning egg hunt through a wave of flyers, word of mouth and a campaign of creative marketing online promotions. This event is entirely sponsored by Snyder Art and Design and is "planted" in the streets as a way to encourage the development of an artistic local culture, promote local business and give back to the local village community.
Thank you all for your support and participation – Bryan Snyder
Click HERE for all the project comments!
Click HERE for the puzzle!
Click HERE top meet the 2011 crafters!
Click HERE for past carlsbadcrawl projects!