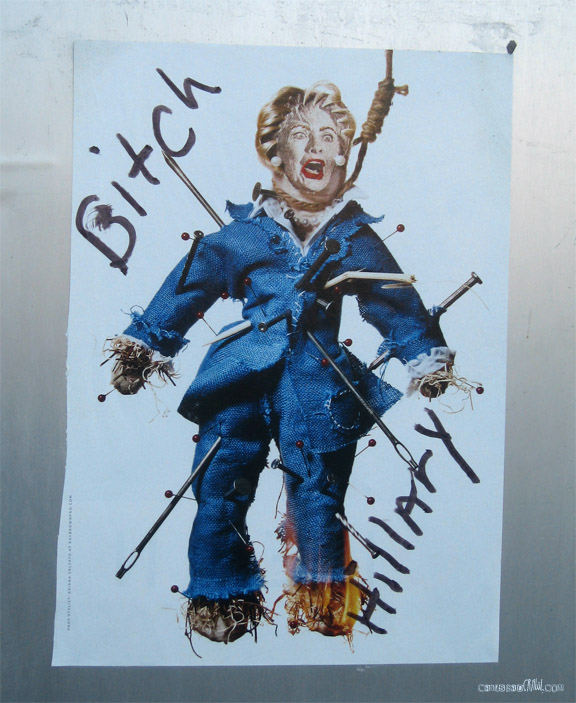 It's not everyday that we see such a blunt projection of one's thoughts in the streets of Carlsbad. Once in a while a racial slur is scribbled on the door of an abandoned house or a phallic doodle might be etched into a fence, but rarely are the streets of Carlsbad used as a confrontational billboard.
This sticker, which I have named Voodoo Hilary, provokes thought and analysis within the viewer. I first question its meaning. There are obvious connotations connected to a voodoo doll, usually depicting the affliction of pain. This agony is directed through severe hatred. This voodoo doll is not only a vehicle for the projection of pain, but also itself is being hung. One foot hangs ablaze by a bright orange flame while the other dangles nervously. Thin pins puncture the doll in various locations along with other impaling gray nails. I browse up the pillaged body and analyze the Voodoo Hilary's face. Paused, it expresses wild emotion. Is this because of bodily pain; a yelp for her sanctuary, or is it a roar of confidence and the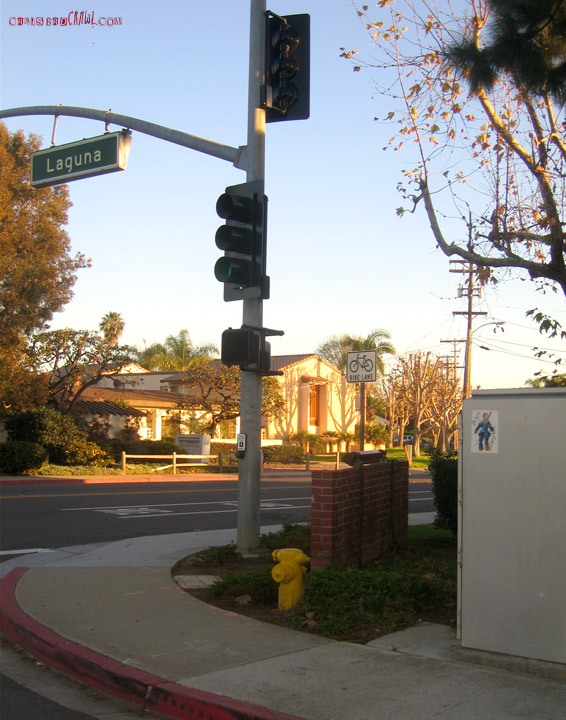 ability to deter negativity? Could this possibly be used to show her strength against all odds? Upon closer investigation, I find that "Hilary" and "Bitch" are written in permanent black marker. Does this mean that someone added their personal touch and belief? Could this addition be the first link of a network of minds? Obviously it was made to be seen by others and possibly be used to persuade the masses. Propaganda has been used in time of war, elections and any other times of conflict or necessity. Why was this location chosen? Does the significance of this corner relate to a historical event which guided early settlers down the dirt roads of these to roads? Is there a connection between the political relevance and the thoughts of the owners of the nearby buildings? Is the location of this recent agitprop suppose to coincide with the upcoming Carlsbad Marathon?
Numerous questions arise from this art. Deep analysis only fuels the growth of curiosity. The viewer, if open to investigation, seeks, first a visual analysis, fallowed by a conceptual probing. The thought provoked justifies it as art. An arrangement of flowers trigger thoughts of harmonious beauty and contentment. What if a photo, painting or song ignited emotions just as strong, but opposite in feeling? Is that still art?
How does this sticker make you feel? Should it remain stuck to this box? Do you consider it art?
Send any info you have on this art or the artist behind it to theartist@carlsbadcrawl.com!
this article, in no way, dissuades the voting of Hilary, or any other candidate. It's purely a story based on the analysis of propaganda.